(CNN) -- Real Madrid's Cristiano Ronaldo leads a list of 30 nominees for this year's Ballon d'Or that does not include a single player from current world champions Italy.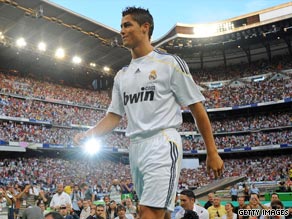 Cristiano Ronaldo has been a huge success in Madrid since his record transfer from Manchester United.
Ronaldo, 24, won the prestigious award last year and will be one of the favorites for this year's title after his stunning start to his career at the Bernabeu Stadium.
The Portuguese forward has scored nine goals in seven games since joining the Spanish giants for a world record fee from Manchester United.
Ronaldo, who is currently sidelined by an ankle injury, headed Madrid's significant summer spending which also saw them sign Kaka and Karim Benzema, who are both also on the list.
European champions Spain are the best represented nation with six players listed, while the Primera Liga boasts the most players from a single league with 12.
The English Premier League is next best with 10 players while Serie A has just four.
Don't Miss
Champions League and La Liga winners Barcelona top the list in terms of club representation with six players -- Zlatan Ibrahimovic, Thierry Henry, Andres Iniesta, Lionel Messi, Yaya Toure and Xavi.
Chelsea and Manchester United both have three players selected on the list. The Blues' nominees are England captain John Terry, Frank Lampard and Didier Drogba while United's selection affords another accolade to 35-year-old midfielder Ryan Giggs, as well as Wayne Rooney and Nemanja Vidic.
The Ballon d'Or is an award handed out to the european footballer of the year. It is voted for by journalists and organised by France Football magazine.
The winner will be announced on December 1.
Nominees: Andrey Arshavin (Arsenal), Karim Benzema (Real Madrid), Iker Casillas (Real Madrid), Cristiano Ronaldo (Real Madrid), Diego (Juventus), Didier Drogba (Chelsea), Edin Dzeko (Wolfsburg), Samuel Eto'o (Inter Milan), Cesc Fabregas (Arsenal), Fernando Torres (Liverpool), Diego Forlan (Atletico Madrid), Steven Gerrard (Liverpool), Ryan Giggs (Manchester United), Yoann Gourcuff (Bordeaux), Thierry Henry (Barcelona), Zlatan Ibrahimovic (Barcelona), Andres Iniesta (Barcelona), Julio Cesar (Inter Milan), Kaka (Real Madrid), Frank Lampard (Chelsea), Maicon (Inter Milan), Lionel Messi (Barcelona), Luis Fabiano (Seville), Franck Ribery (Bayern Munich), Wayne Rooney (Manchester United), John Terry (Chelsea), Nemanja Vidic (Manchester United), David Villa (Valencia), Xavi (Barcelona), Yaya Toure (Barcelona).
E-mail to a friend