By Peter Sorel-Cameron
For CNN






LONDON, England (CNN) -- Golf is increasingly becoming a young player's game.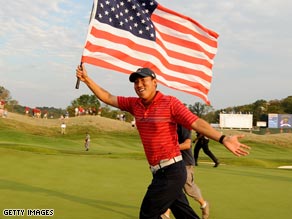 Anthony Kim is the youngest player in the world's top 30 and was part of the winning 2008 U.S. Ryder Cup team.
In the past, aside from the occasional young star like Tiger Woods, the players winning big tournaments have tended to be the more mature pros. But all this is changing.
In 2008, there was a distinct shift downwards in the average ages of golfing champions.
In April 2008, Trevor Immelman took the Masters title at just 28 years old. The following month, Sergio Garcia, also 28, won his first big tournament, The Players, simultaneously moving into second place in the world rankings, behind an injured Tiger Woods.
This month Living Golf talked to one of the sport's most impressive, and youngest, prospects, Ryo Ishikawa, who turned 17 last September.

Watch Living Golf's interview with Ishikawa »
Having become the youngest player to win a Japan Tour event, aged just 15, Ishikawa turned pro at the beginning of 2008 and already has his sights set on the big names. He told CNN he "would like to play against Tiger Woods in the Masters."
And if the trend of talented youngsters continues, Tiger may be forgiven for being worried by this attention from a rising star.
Living Golf takes a look at five of the up-and-coming young golfers who could make a major impact in 2009.
1. Anthony Kim, age 23
Date of birth -- June 19, 1985
He has been considered a big prospect since turning pro in 2006, and has attracted the attention of players such as Tiger Woods and Ryder Cup captain Paul Azinger.
Don't Miss
Last year saw him make a real impact on the golf world, winning his first tour event, the Wachovia Championship, in May. He won the AT&T National in July and made his Ryder Cup debut in September, helping the U.S. team take the title for the first time in nine years.
At the age of just 23, Kim is the youngest player in the top 30, and ended the year ranked an impressive 12th in the world.
2. Camilo Villegas, age 27
Date of birth -- January 7, 1982
Though not exactly a newcomer on the Tour, Villegas is a player set to become a household name this year, if 2008 was anything to go by.
Over the last 12 months the Colombian doubled his total career prize money, won his first two ranking tour events and became the unlikely runner-up in the FedEx Cup. Had he made the cut at The Barclays -- the first event in the FedEx Cup -- he may have scooped the $10 million top prize.
Villegas already attracts a great deal of media attention, whether for his unusual 'spiderman' technique for reading greens, or for what Sports Illustrated's Golf.com refers to as "his fashion model looks," and if he can maintain the standard of his golf, could become one of the sport's big stars.
3. Michelle Wie, age 19
Date of birth -- October 11, 1989
Another golfer whose name has already been splashed all over the sports pages, Wie is back from an injury she suffered in 2007 and ready to make her mark on the Ladies' Tour.
When she turned pro in 2005, Wie had already recorded several top five finishes in LPGA events, and continued to be offered sponsor's exemptions for big tournaments. But after failing to make a significant mark on either the LPGA or the PGA, she has decided to go back and start her career again, by qualifying for her Tour card.
Her performance at Qualifying School wasn't particularly remarkable -- she finished tied for seventh -- aside from the fact it allowed one of the most exciting young players of the last few years to compete with her peers.
4. Martin Kaymer, age 24
Date of birth -- December 28, 1984
He is already so proficient, it seems hard to call him a prospect, but it's clear the 24-year-old German is a serious threat to the big names.
Success in his first European Tour event, the Abu Dhabi Golf Championship, at the beginning of 2008 hinted at his quality, but it was when he took the BMW International Open that the golf community really started to take notice.
Kaymer was invited by Europe's Ryder Cup captain Nick Faldo to join the team in Valhalla; a sign the German is expected to play a part in future Ryder Cups for the Europeans, and his calmness under pressure is bound to set him up as a powerful contender.
5. Rory McIlroy, age 19
Date of birth -- May 4, 1989
McIlroy turned pro in 2007, aged 18, having already made a name for himself as a talented young amateur. With two top five results from his first three tour competitions as a professional, he became the youngest and fastest Affiliate Member to secure his card.

Though he has yet to take his first European Tour title, the teenager from Northern Ireland has racked up a series of great results over brief time he has been a pro, and finished the year as the youngest person in the world's top 50.
As part of the top 50, McIlroy has been invited to play at the 2009 Masters, an honor reserved for a select few of the world's golfers, and it will give him one more opportunity to make a serious mark on the Tour in 2009.
E-mail to a friend