(CNN) -- Angela Stanford has won the season-opening SBS Open at Turtle Bay, depriving Hawaii native Michelle Wie of a dramatic first-ever LPGA victory on home soil.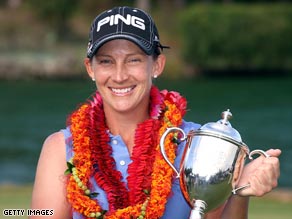 Stanford celebrates her third victory in her last seven tournaments at Turtle Bay.
Stanford carded three late birdies to beat Wie by three strokes with a 10-under-par total of 206 to secure her third success in her last seven tournament starts, a run which has seen her finish no worse than sixth place.
"To be perfectly honest I'm a little surprised to win," Stanford told the official LPGA Web site.
"I didn't have high expectations and I knew there were things that I need to keep working on. As for the way it's been going, I know I say this over and over, but I'm just having so much fun."
Stanford and Wie began the day level on eight-under and both moved onto nine-under before Stanford bogeyed the sixth.
Don't Miss
Another bogey on the 10th and a Wie birdie gave the Hawaiian teenager a three-stroke advantage. However, Wie drove into the water on the 11th, eventually making a double bogey -- and from there Stanford kicked on to seal the fourth tournament victory of her career.
"I felt like I played pretty solid, I just had one bad hole," said Wie. "Obviously, right now I am a little disappointed, but I can take a lot of positive thoughts from this week."
E-mail to a friend