By Steve Mollman
For CNN





(CNN) -- Teachers are often portrayed as being clueless about technology, but ever more of them are putting that stereotype to the test.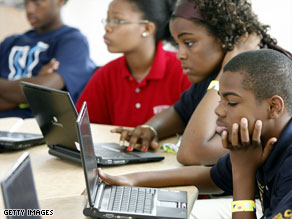 Clicked on to the classroom: Teachers are using Web 2.0 to broaden their lessons and find new ways to teach.
Web 2.0 technologies in particular have found a receptive audience among educators. Many use blogs to share ideas on teaching and technology, some of which might surprise students.
One idea in the teacher blogosphere: In the age of podcasts, kill off the classroom lecture, or at least rely on it less.
Why fill classroom time with passive listening in a chemistry class if it could be better used for practice and interaction? Lectures can be listened to at home as a podcast.
In response to another blogger's post on the topic, Pennsylvania teacher Louise Maine suggests: "Students can listen to it as many times as needed, make notes of questions to ask in class, and maintain for a reference. We can require notes to be shown for evidence of work having been done."
Shifting attitudes among teachers in recent years have been observed by others.
"There is a growing perception that student communication and online collaboration are important 21st-century skills," says Jeff Patterson, president of Gaggle.net, a company offering safe email for students.
His company got off to a slow start after launching in late 1999. "Schools and teachers were just not ready for email and online communication tools," says Patterson.
But now Gaggle.net manages nearly 2 million email accounts, offers student blogs, and plans to release more online collaboration tools. A seventh-grade science teacher in Indiana, Jeff Peterson, says students at his school use Gaggle to collaborate and manage files, "skills they will need to use in the workplace or in college."
His web site complements his courses with various materials, including podcasts, and he has a link to his Flickr page, where he posts pictures from class field trips. He notes that he's fortunate to teach in an area where most students have access to computers at home, and many have high-speed Internet access.
But he's hardly alone. In developed countries it's not uncommon for students to be wired at home and packing gadgets in school.
"In recent years, students bringing and using their own equipment at school has become more of an issue," notes Jill Egan, a librarian at an international school in Scandinavia where students might sport an iPhone or Blackberry.
"But the thinking now is how can we incorporate these tools and use them to further learning, rather than outlawing them as playthings."
At her school, Egan encourages students to use the Firefox browser so they can take advantage of add-ons like Hyperwords and Zotero, both of which she considers essential to research. (They make linking and citation easier, respectively.)
Teachers at her school are uploading and sharing videos and voice comments with tools like YouTube and VoiceThread.
New wave of teaching tools
Of course many classrooms remain tech-free, with reasons ranging from budget constraints to stodgy bureaucracies to teachers who are either resistant or simply don't feel a need. That latter reason should not be overlooked.
"Google Earth is astounding, but sometimes all you need to do is point to a globe," notes Egan. "A good teacher will use whatever tools she has to explain the content of her lessons, and does not over-rely on anything."
Many teachers who argue that technology would only distract from learning have a point.
Still, cheap and easy-to-use tech offerings are increasingly making inroads to classrooms. Many companies, like Gaggle.net, offer both free and paid-for versions of their products, the former usually being supported by ads.
TeacherTube is an ad-supported site similar to YouTube but focused on educational clips. One video shows a middle-school teacher rapping about calculating perimeters. It has more than 350,000 views. The teacher has her own web site complete with an RSS feed and a podcast.
Among the advertisers on TeacherTube is a vendor selling math materials, including books and downloadable games. There's no shortage of online games where students can learn while playing. Among them are SpellingCity.com and Traveler IQ Challenge.
Sites like Thinkfinity.org and ReadWriteThink specialize in linking to an abundance of free lessons, materials and games for educators and students.
Meanwhile teachers head to sites like Edutopia.org and Classroom 2.0 to learn and network. Classroom 2.0 has 16,000-plus members from around the world and was set up with Ning, a free, simple tool for creating social networks.
On Twitter one could recently find educators tweeting amongst themselves about EduCon 2.1, a conference on education innovation to be held in Philadelphia on January 23, 2009. A wiki has been created for the event as well.
Wikis are collaborative online pages that any user can edit, a la Wikipedia. Vendors are keen to get educators using their Wiki offerings as learning tools, seeing them as evangelists of sorts. WikiSpaces has given free wikis to tens of thousands of educators worldwide.
The usual tech giants, of course, are also catering to teachers. Google has a section explaining how its free tools can be used by educators, and Apple's iTunes U has free educational videos and podcasts.
Students, for their part, will likely encounter more teachers using the same Web 2.0 tools they are.
Peterson has a MySpace page peppered with student comments, while students at an Oregon high school were probably surprised when their science teacher received massive attention on YouTube.
Greg Craven's video about global warming generated millions of views and thousands of comments. It even landed him a book deal. Times are changing when your science teacher is a YouTube sensation.
E-mail to a friend