By Steve Mollman
For CNN





(CNN) -- The Twitter universe is getting complicated. Or, depending on your viewpoint, ever more useful.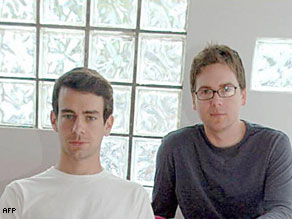 Biz Stone and Jack Dorsey co-founders of San Francisco-based Obvious, the startup behind Twitter.
Hugely popular, Twitter is a platform for sending frequent short messages (or tweets) to many people from your phone or the Internet, and receiving the same from others. For instance a tweet like "Doing laundry yet again!" might go to thousands of followers, if the sender is that popular.
A post like that, of course, would be perfect fodder for those who lampoon Twitter.
But tweets can be powerful. Consider "Arrested," sent via cell phone last spring by a U.S. grad student in Egypt detained after attending an anti-government protest. Thanks to subsequent help from his followers on Twitter, a lawyer was hired on his behalf and he was quickly released.
Such immediacy helps explain the surprising growth of Twitter, which launched to little fanfare in 2006 and passed the billion tweet mark a few months ago. With the popularity has come books, blogs and wikis on Twitter, an awards ceremony for skillful tweeting, the inevitable fraudsters, and -- most of all -- a torrent of Twitter-related apps and services with baffling names sure to confuse newcomers.
Examples include: ReTweetRadar, Twitterific, Twitrans, TwitSpy, Twilert, TweetDeck, TwitPic, TwitterFox, Twitstat, Tweetrush, Twitterfeed, Tweetpotato, Splitweet, Qwitter and Power Twitter.
A whole new world of applications
If you're still wondering what Twitter is -- or why you should even bother with it -- you won't be helped by the above, which is just a taste of what's out there.
Some apps, like Splitweet, help you manage multiple Twitter accounts. Tweetpotato is a game similar to hot potato but without the starch and burns. Qwitter sends you an email if someone quits being your follower -- easy to miss if you have thousands.
Other offerings let you do all sorts of things, like conduct polls on Twitter, send private tweets to a select group, or set up an email address that will turn anything you send it into a tweet.
Many such offerings spring from individual developers working in their spare time, or from tiny startups. Twitrans, which provides free translation of tweets, was launched this month from an Israeli startup called Three Innovators. (English to Chinese and English to Japanese are so far the most requested tweet translations.)
"We think that Twitter is much more than just a cool idea," says CEO Yaron Kaufman. "We think it will influence the way people communicate with each other. It makes the world smaller and flatter, and we are sure Twitrans will contribute to this important change."
He hopes Twitrans will also bring business to the company's OneHourTranslation.com service, started about a year ago. Like many Twitterers, Kaufman uses a separate application that enhances the tweeting experience. Twhirl, Twitterific, Tweetdeck and AlertThingy are examples, and more keep arriving on the scene.
He uses Twhirl, which has a clean interface for managing tweets and integrates with other services like TwitPic (for sharing photos), TweetScan (for searching tweets), and URL shortening services.
The latter have seen a surge in usage thanks to Twitter and its ilk. They take long URLs and make them shorter, which matters because tweets must be 140 characters or less -- and because much of the Twittering involves sharing links, whether to online videos or news articles.
TinyURL.com is a well-known example, but there's a growing number of alternatives with -- again -- baffling names, among them: is.gd, bit.ly, snipurl.com, ff.im, twurl.nl, tr.im, budurl.com, and ad.vu.
What Twitterers collectively are linking to -- or saying about a company -- at any given moment is of keen interest to trend watchers, marketers and others. Though private tweets are possible, most are generally out in the open, so quite a bit of useful analysis is possible.
As a result many tools have sprung up to chart what's going on in the "Twitterverse." For instance ReTweetRadar analyzes "retweets" with the aim of highlighting hot topics and links. Retweets are tweets of interest that have been passed along.
Other gauges try to measure the sheer volume of messages on Twitter. GigaTweet shows a big running ticker of tweets sent and also has graphs showing "tweets per hour."
The folks at Twitter have a "tweets per second" gauge they use internally. In the early months of Twitter, an event like Macworld might cause a spike. Now it takes major world news, like a presidential election or the Mumbai terrorist attacks.
Public relations and marketing pros can now buy high-grade monitoring tools, like Radian6, which can track for instance what's being said about brands or news on Twitter, blogs, and other social networking services.
Fakes and frauds also inhabit the "Twitterverse"
Unfortunately another addition to the Twitter ecosystem -- uninvited and unwelcome -- are the inevitable fraudsters. Dozens of prominent Twitter users, including Britney Spears and Barack Obama, have had their accounts hacked.
Phishers have fished for passwords using misleading links (like twitter.access-logons.com instead of just twitter.com). And just as "cyber-squatting" plagues the Web, in Twitter it's "squitting." (Or "twit-napping.")
This is where someone sets up an account name in an attempt to appear to be a company or person. Many companies now feel they can't ignore Twitter, as reflected in a new book entitled, "Twitter Means Business: How Microblogging Can Hurt or Help Your Company," by the tweet-immersed tech author Julio Ojeda-Zapata.
The U.S. cable company Comcast uses a Twitter account for customer service. It's manned by one Frank Eliason, who -- in a nice personal touch -- posts his picture and even provides links to his blog and family's website.
He's quick to tweet back to customers, who finally get what they've always wanted: A real human being instead of an automated phone-tree system.
Meanwhile it's becoming clear that there's an actual craft to tweeting about stuff.
To recognize those who have mastered it, the first "Shorty Awards" will be held in New York on Feb. 11. The selection process began in December, "but we had no clue who to put in what category, or even what all the categories should be," says Gregory Galant, CEO of the company behind the awards, Sawhorse Media in Brooklyn.
The solution? Not surprising: "We let the Twitter community decide."
The rest of us, after all, are still scratching our heads.
E-mail to a friend