By Stephanie Condon






(CNET) -- Overcoming partisan divisions, the Senate on Monday night unanimously voted to delay the digital television transition until June 12.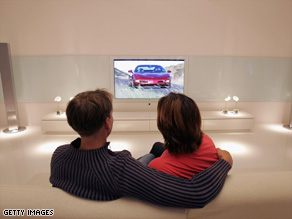 U.S. broadcasters were to begin transmitting their TV signals only in digital format on February 17.
Senate Republicans earlier this month blocked a bill to delay the national switch from analog television broadcasting to digital broadcasting, which was originally scheduled for February 17.
The so-called DTV Delay Act, though, was brought back to the Senate floor after Democrats and Republicans in the Senate reached a compromise.
The approved bill would allow television stations to switch to digital signals before the June 12 deadline if they are ready, for the vacated spectrum to be allocated to public safety services.
The coupon program to subsidize digital converter boxes is also extended under the legislation, allowing consumers with expired coupons to apply for new ones.
Since the coupon program ran out of money, hundreds of thousands of consumers have been waiting for a coupon.
"I firmly believe that our nation is not yet ready to make this transition at this time," said Sen. John Rockefeller (D-West Virginia), chairman of the Committee on Commerce, Science and Transportation.
"The Senate acted responsibly to give the Obama administration time to attempt to bring order to a mismanaged process."
The House Energy and Commerce Committee is scheduled to review its own version of the digital TV delay bill Tuesday morning.
E-mail to a friend

© 2009 CBS Interactive Inc. All rights reserved. CNET, CNET.com and the CNET logo are registered trademarks of CBS Interactive Inc. Used by permission.
All About Digital Televisions