From Paul Courson
CNN





WASHINGTON (CNN) -- Suggesting that the planet will soon reach an irreversible "tipping point" of damage to the climate, former Vice President Al Gore told members of Congress on Wednesday that the United States needs to join international talks on a treaty.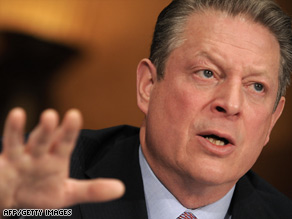 Al Gore says the United States must join international talks on an environmental treaty.
"This treaty must be negotiated this year," Gore told the Senate Foreign Relations Committee.
During questioning, he acknowledged that any treaty must include mechanisms to ensure compliance with prospective limits on carbon dioxide emissions, which come primarily from burning fossil fuels for energy.
Committee Chairman John Kerry of Massachusetts said public policy must change and respond to warnings from scientists who fear that a buildup of greenhouse gas emissions may prove permanent.
"Frankly, the science is screaming at us," he said. "Right now, the most critical trends and facts all point in the wrong direction."
The prospective harm from climate change includes permanent coastal flooding from rising sea levels, agricultural deterioration and the spread of tropical diseases to temperate climates, scientists say.
To avoid reaching any point of no return, said Sen. Richard Lugar, R-Indiana, the United States should rise to a leadership role in promoting other forms of energy such as solar and geothermal power.
Don't Miss
"Such technology represents an enormous opportunity for United States exports," Lugar said, "but we have to have the will to develop, test and implement these technologies on a truly urgent basis."
Gore came equipped with charts and graphs, photographs and video to help illustrate his call to action. In one video recorded in the Arctic, a researcher screamed when a colleague ignited a large cloud of methane gas that Gore said is bubbling up as a result of the melting ice cap.

Watch Gore's testimony »
He said the scientist was not hurt.
The former presidential candidate, who shared the 2007 Nobel Peace Prize for raising awareness of climate change, urged lawmakers to support an economic stimulus package now moving through Congress.
The Obama administration bill, he said, promotes "energy efficiency, renewables, a unified national energy smart grid and the move to clean cars" that he described as long overdue.
He also tied job creation to improved energy policy, saying alternative energies would create "sustainable, high-paying jobs."
As for workers in today's coal industry who could be left behind, Gore said it cannot be justified "to keep on doing this incredible damage and harm in the name of their jobs" when the nation could "much more effectively create even better jobs."
Gore did not rule out a continued presence for atomic energy, despite high construction costs and the problem of nuclear waste disposal, but he noted that the greatest growth in the energy sector involves wind and solar power.
During the hearing, Republican staffers handed out a statement contending that there are "significant objections" to claims about climate change. The document, which did not name Gore, said there is "a continued international outpouring of skeptical scientists" along with research "to refute warming fears."

The idea that the world's climate is being changed by human activities is supported by studies accepted by the vast majority of scientists with expertise in the field. The Intergovernmental Panel on Climate Change, the U.S. National Academy of Sciences, the American Meteorological Society, the American Geophysical Union and the American Association for the Advancement of Science are among groups that have issued reports backing that position.
Gore's testimony may help Kerry's committee shape the U.S. position at a conference on global climate change set for December in Copenhagen, Denmark.
E-mail to a friend

All About Al Gore • Global Climate Change • Politics • Environmental Policy