By Simon Hooper
CNN





(CNN) -- A Web site started by a student as a way of staying in touch with friends celebrated its fifth birthday Wednesday as a billion-dollar business and a global phenomenon.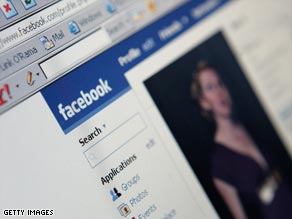 Around 15 million users update their statuses on Facebook daily.
Mark Zuckerberg was 19 when he launched Facebook from a Harvard dorm in 2004. Within 24 hours, more than 1,000 of his Harvard classmates had signed up for the social-networking site and one month later half of those on campus had a profile.
Five years on, the Web site claims more than 150 million users worldwide while Zuckerberg, now 24, was named the youngest billionaire on the planet -- with an estimated fortune of $1.5 billion -- last year by Forbes magazine.
Writing in Time on Zuckerberg's inclusion in the magazine's 2008 list of the most influential 100 people in the world, Craig Newmark, founder of Craigslist, said Zuckerberg had created "a social network that not only reflects your life but maybe expands it."
Along with sites such as MySpace and Bebo, Facebook has also been credited with bringing social networking into the mainstream, with politicians, businesses and celebrities jumping on the bandwagon.
iReport.com: From Harvard kids to Facebooking your Mom: How have things changed?
According to Facebook figures, around 15 million users update their statuses daily. More than 850 million photos are added to the site each month while the average user has 120 friends.
Meanwhile, Web sites such as Facebook were widely credited with helping Barack Obama secure victory in last year's U.S. presidential election by helping him connect via the Internet with younger, previously disengaged voters.
In a blog published Wednesday to mark Facebook's birthday, Zuckerberg said the site offered a way of making the world more open and giving people a voice to "express ideas and initiate change."
"The culture of the Internet has also changed pretty dramatically over the past five years. Before, most people wouldn't consider sharing their real identities online," Zuckerberg said. "But Facebook has offered a safe and trusted environment for people to interact online, which has made millions of people comfortable expressing more about themselves."
In a new Facebook first, the Web site featured at last week's World Economic Forum in Davos with users contributing to live discussions and polls that were flashed onto big screens during sessions with world leaders.
Speaking to CNN, Randi Zuckerberg, Mark Zuckerberg's sister, said politicians and businesses were looking to Facebook as "a place for insight and to get a real time pulse."
Yet questions still remain about the finances behind Facebook's remarkable expansion. The company has attracted more than $200 million in investment from venture capitalists while in 2006 it rejected a reputed $1 billion bid from Yahoo!
In 2007 Microsoft paid $250 million for a 1.6 percent share, a figure that gave Facebook a total projected value of some $15 billion.
But with the global financial crisis hitting Web advertising -- Facebook's core revenue stream -- those sort of figures now appear to belong to a bygone age.
"What Facebook isn't yet is a slam-dunk success," said Adam Lashinsky of Fortune magazine last month. "It is selling advertising, it is bringing in revenue but it's not wildly profitable even if it is profitable at all.
"There is no question that it has entered the zeitgeist but that doesn't mean that it has progressed beyond the stage of being cool or viral or exciting to being a mega-business success the way that Google, Microsoft or even its arch-competitor MySpace is."
Yet in an industry prone to short term fads and rapid evolution, Mark Zuckerberg said Wednesday he remained committed to making sure that Facebook remained as relevant in the future.
"Building and moving quickly for five years hasn't been easy, and we aren't finished," he said. "The challenge motivates us to keep innovating and pushing technical boundaries to produce better ways to share information."
E-mail to a friend

CNN's Priyanka Deladia contributed to this story.