By Chris Pirillo





(CNN) -- Poor Hormel and its signature canned, processed, porcine-derived product, SPAM. First came Monty Python mockery and now, the dubious honor of becoming a household name for unsolicited junk email.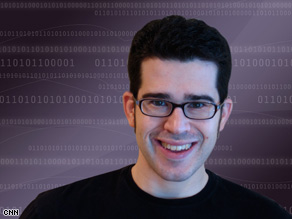 A self-admitted tech geek, Chris Pirillo is president of Lockergnome.com, a blogging network.
While Hormel eventually came to embrace SPAM's association with Monty Python and the musical "Spamalot," the company can hardly be blamed for its less-than-thrilled stance on the whole email thing (though, interestingly enough, the two associations are related).
Call it what you will, spam (sorry, Hormel) is a scourge that eventually plagues anyone with an email account, no matter how careful that account owner may be. If you're reading this, chances are you've dealt with it on some level.
Whether you're a corner office executive with an overflowing daily inbox of the stuff or a frugal pensioner wondering why you're getting the occasional invitation to try medicines that your doctor's had no hand in prescribing for conditions you don't find particularly troubling, I'm willing to bet you're sick of it.
I'm also willing to bet that you've probably felt powerless against this modern affliction and wondered why someone, somewhere, couldn't do anything about it -- I know I have.
It's not like it's not illegal to send unsolicited junk email in bulk. In 2003, Congress passed the CAN-SPAM (Controlling the Assault of Non-Solicited Pornography And Marketing) Act.
In writing, the law looks pretty clear and all-defining, but spammers find loopholes or just ignore it completely in hopes they'll be lost in the crowd and never actually prosecuted for their wrongdoings.
In most cases, unfortunately, the scofflaws come out ahead. But then, every once in a while, something happens that gives us hope that law enforcement might actually get a grip on this problem -- hope that we might see the end of spam in our lifetime. Ah, so close.
But no. For all of the "spam kings" (and spam kingdoms) that get sent to the dungeon (and, on occasion, escape for even greater villainy to further confirm, yes, we're dealing with horrible people), there are many, many more poised to take their place.
While locking up such soulless gobs of filth (no offense intended to actual filth) and throwing away the key feels right and good, how effective is it in deterring others who would follow in their footsteps?
If spam were simply a matter of mere annoyance, maybe our righteous indignation over inbox invasion would seem humorously overblown. Society's full of bothersome distractions and peace disturbances that make us shake our fists at the air in anger: car alarms that go off in the middle of the night, low-flying commercial airliners that shake pictures off of the walls, and telemarketers (oh, there are laws? Could've fooled me) to name a few.
But spam has evolved from a pesky garden slug ruining the petunias into a man-sized, bloodsucking mosquito capable of soaking up countless identities and leaving lives devastated in its wake. It can be used to fish (or, as it's become known, 'phish' -- which probably annoys jam-band-loving hippies to the degree that the appropriation of the word 'spam' annoys Hormel) for personal information in the guise of legitimate agents that might have a need to ask for such information: banks, the IRS, Nigerian nobility in exile... whatever.
Sure, you might be savvy enough to avoid the more obvious attempts that land in your inbox and try to coax this sort of information from you, but could you say the same of everyone you know? Mom? Grandpa? Your kid's first-grade teacher? It's not hard to imagine even those well-schooled in the ways of the world being taken in by scams that are new -- to them, at least.
So what to do? Legislation doesn't seem to be doing the trick. Law enforcement's hands are often tied (or lopped off at the wrist). The fight goes on and will go on, so be sure to keep your gloves at the ready. Inform yourself; inform others. Have a system in place to protect you from spam and its covert cooties.
I use mail server-side filtering in combination with local filtering in my desktop email client. Some people funnel their email through Gmail's spam filters and swear by it.
What do you use? If you say "nothing," then you may as well be walking around with a big bull's-eye on your forehead for all the scammers, shysters, scallywags, and spammers of the world to aim for.
Really, though, if we can't count on ourselves to defend ourselves, here's hoping that Hormel can dream up some way to get us out of this spam jam.
E-mail to a friend