By Chris Pirillo





(CNN) -- The Internet, just like the real world, is filled with its upstanding citizens, lowlife greaseballs, civic centers, red light districts, libraries, dirty bookstores, video arcades, casinos, museums and bootleg kiosks.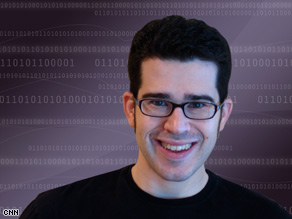 A self-admitted tech geek, Chris Pirillo is president of Lockergnome.com, a blogging network.
Parents wary of allowing their children out of the house without certain guidelines -- like "don't cross the street without looking both ways," "be home by 8" and "stay away from that shifty-eyed drifter who hangs out under the bridge" -- should have a series of equally reasonable guidelines for their children when they venture into the potentially seedy online world.
It may be especially difficult for parents who didn't grow up with the Internet to understand where to draw boundaries. Should they take the hard-line, paranoid approach of the censorship-happy Chinese government and monitor every move their children make on the Internet, or should they be more laissez-faire about the whole thing?
When I was growing up, my parents did their best to limit my computer time to what they deemed a "healthy" amount. Having not grown up with computers, they faced similar difficulties in knowing exactly what that meant.
As it was, I became addicted to technology, anyway. I'll bet my parents thank their lucky stars that, at least, I didn't also have Internet access back then!
I had to wait until adulthood for that to happen. It didn't take long for me to stumble across enough disturbing things on this new-fangled Internet thing to learn how to monitor my own virtual travels and avoid...unpleasantness.
Without guidance, would a curious, wide-eyed child be able to do himself the same favor? It's hard to say, but I hope parental intervention would make sure he or she never got that far.
I'm not a parent, but I acknowledge that it's not an easy job. Add the unfettered potential of the Internet to be a fountain of endless wisdom or a cesspool of infinite filth, and no easy answers present themselves.
I feel this is something that needs to be addressed, however. I have countless underage followers of my online endeavors, and if their parents knew what many of them did online, they'd have their privileges revoked faster than you can say "overly profane, barely literate YouTube comment."
All I can do is recommend a few things that responsible parents who know their way around the Internet have passed on to me:
1. Establish firm rules. Whether those firm rules are simply "no porn, no giving strangers personal information, and log off by 9 p.m. so you can get ready for bed" or something more elaborate, let your children know exactly what's expected of them if they want to continue enjoying the privilege of Internet access.
2. Keep an open mind and let your children share things that they find interesting on the Internet. Whether it's a funny YouTube video or a new song by their favorite band, this kind of interaction helps keep you connected with the things that they find important (and ensures that they'll keep you in mind should they be tempted to stray into "forbidden" territory).
3. Both Vista and OS X have decent parental controls, and OpenDNS is an excellent, free resource that has home network filtering options. Keep in mind that a child with a will is likely to find a way to circumvent just about any software limitations you might impose on him or her, though.
At that point, do you scold the kid while secretly taking pride in how clever the little bugger turned out? Admittedly, I probably would!
4. Don't be afraid to loosen the leash a bit, but make sure the kids know that their Internet activity is open to review at any time. In this way, you're giving them the responsibility of self-monitoring while allowing them a certain level of freedom and confirming that, while you trust them, you're still maintaining parental guidance.
5. Don't be surprised if you wind up crossing paths with your child in places like social networks, blogs, forums, etc. Depending on the kind of relationship you share, you might even have the opportunity to add her as a "friend" -- but you might want to let her initiate an invitation to prove that you value her privacy.
This is provided, of course, that you have no objection to the social network, blog, forum, etc., in which she's taking part. And if you see that she's been spamming my YouTube videos with overly profane, barely literate comments, I encourage you to object!
E-mail to a friend