By Stephen Shankland






(CNET) -- Showing that its Web application priorities extend to the mobile world, Google on Wednesday demonstrated a version of Gmail for the iPhone that could be used even when the phone had no network connection.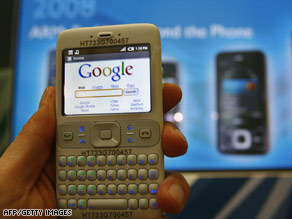 Google is eyeing a new version of its Web-based Gmail application for Apple's iPhone.
Vic Gundotra, Google's vice president of engineering, showed what he called a "technical concept" of Gmail even when the iPhone was offline. In January, Google released an offline version of Gmail for desktops and laptops, and like it, mobile phone incarnation runs in a Web browser, not as a native application.
The software let Gundotra browse and read e-mail even after he switched the phone into airplane mode, which shuts off the wireless network.
Offline applications can't of course retrieve new data from the network, but they do synchronize when network access is restored. Meanwhile, it stores e-mail in a local database on the phone, even when online.
"You'll note that it's very, very fast because it's using that local database," Gundotra said. The application also showed a floating toolbar that was visible even as he scrolled through his inbox.
It's significant for several reasons that Google is eyeing a new version of its Web-based Gmail application for the iPhone. For one thing, the company wants to bring to the iPhone all of Gmail's features -- search, labels, and conversations, for example -- and Apple's built-in mail application lacks those abilities.
But more broadly, the move is significant because it shows how Web-based applications can bypass the control particular companies such as Apple or Microsoft have over a computing technology.
Apple has achieved tremendous success with its App Store, which lets people download and buy software for the iPhone and iPod Touch. But it controls that conduit, and it only can deliver software written specifically for those devices.
Web applications run in a Web browser, and all smart phones have browsers -- though of course hardware and network constraints typically mean they're anemic compared to desktop versions.
In case this point about the power of Web applications was lost on observers, Gundotra showed the same Gmail software running on the HTC Magic, a new phone using Google's Android operating system.
"You now have an ability to build an app that spans devices as long as that device implements the latest specifications of these modern HTML 5 Web browsers," Gundotra said.
The mobile phone version of the Gmail software uses a somewhat different approach to enable offline access.
Where the desktop version uses a Google-developed open-source browser plug-in called Gears to enable offline support, the iPhone version uses the offline data storage standard of HTML 5, the gradually emerging overhaul of the language used to describe Web pages. That technology can cache the state of an application as well as data such as messages.
Of course, getting a modern, full-featured browser on a PC with plenty of memory is hard enough, and mobile browsers generally lag PC versions.
However, it should be noted that Safari on the iPhone, like the browser in Android, is based on the WebKit open-source project, and WebKit has been building in offline support. So at least on some higher-end phones, a Web-based version of offline Gmail could be an option sooner rather than later.
E-mail to a friend

© 2009 CBS Interactive Inc. All rights reserved. CNET, CNET.com and the CNET logo are registered trademarks of CBS Interactive Inc. Used by permission.