By Jessica Ravitz
CNN





(CNN) -- If finding a real job evades you, now may be the perfect time to just pretend you have one.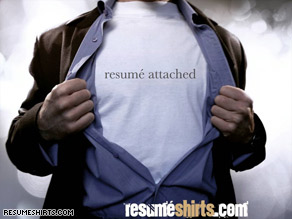 ResumeShirts.com, launching Tuesday, will allow customers to print their resumes on customized T-shirts.
Fake employees, corporate seat-fillers, are reportedly being paid by New York advertising agencies to dress and act like they work in firms so prospective clients visiting the offices will be instilled with confidence.
Sound crazy? Not to Jeremy Redleaf, the 24-year-old founder of Odd Job Nation, a Web site scheduled to officially launch today.
"Seriously! I have friends who do this," Redleaf says, before rattling off some of the other "exclusive odd jobs" he's compiling. "We want to be the resource for the new growing army of part-time opportunists ... You've got to hustle life before life hustles you."
Assuming your Internet access hasn't gone the way of your 401(k) savings, the Web is now rich with sites and blogs that offer information, support, survival tips and even comic relief to those who are feeling the financial pinch.
Some sites chronicle recession news for those who can stomach it. Among them are
The Daily Bail, which keeps tabs on all things bailout; Timely Demise, which covers the retail industry; and a Twitter page called The Media is Dying, which honors the media dead.
But many new sites exist simply to foster community, or at least make people realize they are not alone.
The 405 Club, a reference to New York's $405-a-week maximum unemployment benefit, invites visitors to become part of the "fastest growing club in New York." Laid-off Dad offers insights into one New York City man's travails. ResumeShirts.com, another Jeremy Redleaf venture, allows customers to print resumes and cover letters on customized T-shirts.
Pink Slips are the New Black, dubbed "the blog for unemployed people by unemployed people," was the brainchild of two 20-something women in New York. Visit the "about" page and the message is simple: "We're broke. We're angry. We're frustrated. We're unemployed ... Like you. There is strength in numbers. Join us."
Though the blog started as a way "to channel our anger," co-founder Bridget Sweeny -- a real estate marketing casualty -- says they're now targeting others in their age group with an "irreverent, fun and cheeky" approach. Postings, for example, share fears about moving back in with the parents and listings for awful jobs that make not working more palatable.
Billing itself as a "pop-up site" (a now trademarked term) that is "ready and willing to die," is Recessionwire, which was launched earlier this month. The site's mission is to provide inspiration and offer tips to those who are navigating the recession's rocky road.
"There's a lot of stuff out there about doom and gloom," Laura Rich, one of the three co-founders, says. "From a competitive standpoint, we don't need to compete with that ... We want to help people to be more creative, to use this opportunity to shift things in their lives."

Watch founders discuss Recessionwire »
A recent post offered "tips for making the most of your closet misfits," while another revealed the silver lining found in restaurant deals. A recurring column entitled "Love in the Time of Layoff," appears amid "Recession Recipes" that can be whipped up on the cheap, and uplifting tales of "Lemonade Makers" who've made good out of bad times.
Not everyone, however, is able to put a positive spin on the financial crisis, which is why Ben Carey, 37, and Henrik Delehag, 35 -- two London, England, satirists and authors who collectively go by Benrik -- launched Recession Blocker in October.
By using this search tool, one can access a news site without having to read any bad news, because every possible word and phrase that could be seen as a downer (think "cash-strapped," "financial turmoil" or "unemployment") is blacked out.
"The media were making matters worse by talking about it [the recession] non-stop and scaring people out of spending," Carey says, before adding that the heavy traffic has caused his server to crash several times. "It clearly hits a nerve with a wide range of people who are overwhelmed by recession stories."
A character named "Joe" on Odd Job Nation approaches the crisis tongue in cheek. His "penny-pinching tips," for example, encourage readers to make late-day visits to bakeries for free carbs and bring backpacks to friends' places to nab an occasional light bulb.
When transportation needs become desperate, Joe even suggests taking a bicycle from a small child.
"It's good to experience disappointment when you're still developing," he reasons.
For those who can't steal from children, avoid recession news or escape their own bleak realities, Marlin Potash, a New York City psychologist of 30 years, was inspired to step into the blogosphere for the first time. Her blog, Feeling Up in Down Times, went live about six weeks ago.
It's been Potash's way to "bring psychology to the people," at a time when many can't afford it or are stymied by what they perceive as the stigma of going to therapy, she explains.

By offering advice online, including stress-reduction tips such as the "3 Minute Bathroom Meditation," she's hoping to bring what she knows from her field to the recession-weary masses who may never step into a professional's office.
"We're all in this together," Potash says. "And it's going to be a longer haul than we think."
E-mail to a friend

All About National Economy • Unemployment Rate