By Chris Pirillo





(CNN) -- This Twitter thing has been coming on like gangbusters. The messaging site has been around for a couple of years, but its popularity seems to have exploded just recently.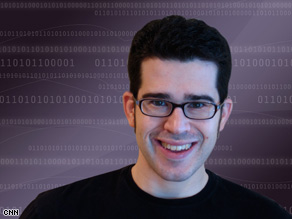 A self-admitted tech geek, Chris Pirillo is president of Lockergnome.com, a blogging network.
Everyone from BarackObama to John Cleese to NASA to the consulate of Israel has a Twitter account. Heck, even yours truly does! Do you? Follow me and I'll follow you back.
Twitter is really more of a social commons than a full-blown social network like MySpace or Facebook. It pretty much does one thing: allows people to "tweet" what they're up to (or what they're thinking about) in 140 characters or less.
Call it micro-blogging, if you will, but it's about as close to the "Keep It Simple, Stupid" (K.I.S.S.) ideal as it gets. People can follow your tweets and you can follow theirs -- that's pretty much it.
There are some third-party apps out there that can help you organize and seek out the information flying around out there in the Twittersphere, but it all pretty much stays in the nutshell.
With the overwhelming amount of widgets and gadgets and gizmos and doohickeys and whatnots attached to every other social network out there, isn't it nice to be able to get away with plain ol' simple every now and again?
Since we're sticking with the "less is more" aesthetic, I'm just going to give you 10 Twitter tips instead of the 20 I could have stretched this into. You're welcome!
1. Be yourself, but beware. Say whatever you feel like saying, but remember that whatever you write could exist in the digital universe forever. Proceed with extreme caution.
2. Don't be afraid to interact with others. If you like something they say, reply by clicking the little grey arrow that appears when you hover over one of their tweets. You can also simply type in @username (replacing "username" with whatever their username happens to be on Twitter). This is the formal way to address someone on Twitter. iReport.com: Do you agree with these tips? Share some of yours
3. Follow celebrities. They may never interact with you, but at least you can interact with them. It's no longer a question of who is on Twitter -- but who ISN'T on Twitter.
4. Use Twitter from your desktop. Twitter has something called an API (Application Programming Interface), which allows programmers to create experiences around Twitter for the community. Because of this, there have been an amazing array of applications released that will allow you to manage your Twitter account easily. There's Twitterrific, TweetDeck, and Twhirl -- just to name a few.
5. Find friends fast. If you're looking for new friends, a quick search for some of your favorite things on search.twitter.com will quickly reveal who you should be friending on Twitter. Maybe they'll follow you back?
6. Follow government officials. If your elected official isn't on http://tweetcongress.org, then they're behind the times. Heck, even the Library of Congress is on Twitter!
7. Crowdsource. If you have an idea, or a question, don't hold it in -- let it be known to all! Who knows -- someone just may answer your call for help.
8. Tweetups. Keep your eye out for these things. They're meetups for people on Twitter, and there's likely one happening regularly in your neck of the woods. I've taken to hosting one monthly in the Seattle area, as a matter of fact. Meet Twitter people -- tweeps, tweeple -- in meatspace!
9. Retweet. If you like something that someone else has tweeted, you can "RT" (retweet) it. This gives the original person credit, and also lets your followers know what you like. That's community!
10. Go with the flow. If you think you know better than everybody else, you're wrong -- the same netiquette rules apply on Twitter as well as on the rest of the Internet.
Do you have any Twitter tips to pass along? You could even share the link to this article on Twitter and it might become the most popular story today!
E-mail to a friend