By Lara Farrar
For CNN





(CNN) -- Over the years digital signage in public places has become an increasingly common sight in shopping centers around the world.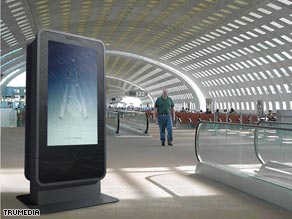 TruMedia have been pioneering the smart sign surveillance technology.
However until recently there's always been one big problem with the expensive advertising medium: How can advertisers tell if anyone is actually watching it?
To solve that problem, ad companies are turning to technologies more commonly used to track terrorists than trace consumer behavior in an attempt to regain ground with fragmented audiences.
The new breed of digital signs are capable of measuring which ads are most appealing to what demographic, even instantly changing screen content based upon the age and sex of the people in front of it.
They would be able to switch to flower-scented shampoo for young females, arthritis medicine for senior citizens, or a new sports car for younger men.
The smart signs digest all the information they see and create a profile without ever having to ask you a single question or tell you that they doing it. This is why a growing number of privacy advocates are raising red flags about just how far retailers are willing to go to reach target audiences.
"Whenever we talk about our technology, everybody always says, 'Is Big Brother watching?'" said Vicki Rabenou, chief measurement officer of Florida-based TruMedia Technologies, a company that designs and sells audience measurement solutions based on surveillance systems used by the Israeli Government.
One of the company's main products called the iCapture AlliO, which Samsung Electronics recently licensed to manufacture with some of its LCD screens, is an oblong black box containing cameras and software capable of generating detailed demographic reports about audiences and can change ad content in real-time depending on who it determines is in front of the sign.
"We never record anything. We never actually attach a name to the face or a name to the data or a face to the data," said Rabenou. "We only generate the data. It is just plain data."
TruMedia, whose slogan is "Every Face Counts," has a privacy policy clearly stated on their web page, however other companies do not, and, according to Harley Geiger of the U.S.-based Center for Democracy and Technology, this is a big problem.
"I call it the beginning of surveillance for profit," said Geiger. "Companies don't have to be forthcoming about whether they are using this stuff. The only person they really need to report to is their client."
"We simply don't know how many companies are doing this because companies don't have to tell us, and there is nothing saying that they do," added Geiger.
"And in a recession there will be even more of a push to get your advertisements in front of consumers and for advertisers to save dollars and manufacturers to save money."
Proponents of audience measurement technologies say it is more crucial than ever to support its integration into the burgeoning digital signage industry, which, despite the downturn, analysts predict will grow by nearly 20 percent this year.
"Until today, out-of-home media based advertising was suffering because it was an unmeasured media, and as an unmeasured media, it was undervalued by the advertiser," said Rabenou.
"Nobody would allocate their media money to this unless you have some type of measurement. Let's support the industry. Let's let it flourish."
Watching you shop, to shop better
Other companies are layering even more technologies on top of digital signage networks to further pinpoint consumer behavior, moving beyond generic demographics to collecting information about individual shoppers, their preferences, purchase histories, habits and even hobbies.
Some retailers, for example, have discussed implanting RFID tags, or wireless tracking devices, into loyalty cards. When customers walk into a store, kiosks would read the tiny chips, offering them discounts or other promotions based upon their individual purchase history.
In 2004, German supermarket chain Metro AG tested such a system in one of its locations, implanting 10,000 RFID chips in rewards cards, but ultimately decided to drop the program after a consumer backlash.
"With the loyalty card, if you give them your information, they will know that it is Harley Geiger who just walked in the store," said Geiger. "And that is a big difference."
"Who do the companies share this information with and to whom is it accessible?" he added. "How would they respond to a warrant or subpoena? What policies do they have in place for that?"
However others argue that the more information retailers are able to collect about their customers, the better it is for consumers and their overall shopping experience.
"Who wouldn't you want to walk into a store where people don't have to ask your name because they already know you?" said John Eisenhauer, head of Seattle-based Kombi, a company developing smart-phone software for use in retail spaces.
"Any number of us have chosen to join loyalty programs, and we chose to join because of the benefits those programs deliver."
Many stores are already incorporating cell phones into their digital signage infrastructure.
In Japan, for example, digital signs developed by NEC Corporation often have bar codes integrated into ad content, which customers can snap pictures of with their mobiles and take to checkout counters to redeem free items or discounts. Other billboards have numbers that consumers can text to receive various promotions.
The technology Eisenhauer is creating for smart-phones is a downloadable application that would, among other things, allow retailers, with customer consent, to access information on an individual's social networking site.
When that person is then in the retailer's store or nearby in a shopping mall, the store's network could send messages to his or her cell phone if other friends are in the area or send other customized information tailored to a customer's preferences, habits or hobbies.
"Our intention is to push into a Web 3.0 world where social networks occur in real space in real time with real people looking each other in the eye, and the shopping experience is taking place where I can touch the clothes, touch the shoes, touch the cars in real space and real time," said Eisenhauer. "I get the best of both worlds."
"If you are at the mall and you can find out whether any of your other friends are there who might be able to take 20 minutes out for a cheeseburger," said Eisenhauer. "Would that be great?"
E-mail to a friend