By Stephanie Chen
CNN





(CNN) -- During the Great Depression, President Franklin Roosevelt reassured anxious Americans through his famous fireside chats over the radio.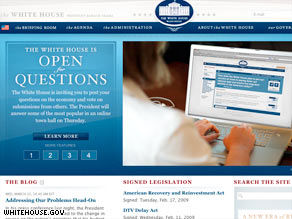 Americans can submit questions on WhiteHouse.gov for President Obama to answer live online Thursday.
Now, in the 21st century, President Obama has found his own fireside equivalent, launching an online town hall meeting Thursday where he will answer citizens' questions about the troubled economy and his efforts to fix it.
"We're going to try something a little different. We are going to take advantage of the Internet to bring all of you to the White House to talk about the economy," he says in an introductory video on the site.
As of late Wednesday afternoon, more than 30,000 people had submitted more than 32,000 questions on the official administration Web site, WhiteHouse.gov.
Americans may submit questions, and vote on others' queries, until 9:30 a.m. ET Thursday. Obama has promised to answer the most popular questions through a live video stream on WhiteHouse.gov. beginning Thursday at 11:30 a.m. ET.
The site had recorded more than 1 million votes as of late Wednesday afternoon.
The White House's Web site asks people to agree to post "only questions related to the economy (including topics essential to long-term economic growth, such as education, fiscal responsibility, green jobs and energy, health care reform, and home ownership)."
A quick review of questions revealed deep concerns among Americans trying to make ends meet.
"What is the government doing to make higher education more affordable for lower and middle class families?" asked James of Bloomington, Indiana, who described himself as a full-time student who also works full time, "only to break even at the end of the month."
"Why do I have to be to the point of foreclosure to get any help with my mortgage? Why aren't you helping the people who want to prevent foreclosure?" asked another questioner from Providence, Rhode Island.
Observers say Obama, who revolutionized the use of technology as a political tool during his campaign, will be the first president to address questions from the public live on the Internet. By allowing people to submit any question they want and answering them live on the Web for the entire world to see, the administration hopes to create a more transparent style of governing that will help win public support.
"This is just the tip of the iceberg," said Don Tapscott, author of "Growing Up Digital," a book exploring the generation that has grown up on the Web. "It turns out that the Internet is a new medium of human communication that not only helps you get elected, it changes the way you govern."
Along the presidential campaign trail, Obama was praised for his innovative use of social networking sites such as Twitter and Facebook to announce events, rally volunteers and raise money.
Nine years ago, when George W. Bush ran for president, Internet media tools such as Facebook, Twitter and YouTube didn't exist.
Bush and former President Bill Clinton engaged in online chats with citizens, but neither relied on the Internet as a platform for reaching the American public as Obama does, said Andrew Rasiej, co-founder of the Personal Democracy Forum and the techPresident blog.
"It's changing the relationship between the president and the country," Rasiej says. "It's building on a 21st-century information age platform. We want to make sure our president isn't stuck in a bubble."
Some observers wondered whether Obama's creative social media initiatives, dubbed Obama 2.0, would continue once he entered office. But Thursday's online meeting -- the first of many, according to the government -- reaffirms his commitment to engaging with Americans through technology, Rasiej said.
While Obama's staffers have stopped posting updates on social networking sites since the election, they are sill reaching constituents through WhiteHouse.gov, which is more interactive than previous administrations' Web sites.
Launching an online town hall meeting will allow more effective communication with citizens, said Ellen Miller, executive director at the Sunlight Foundation, a group that advocates government transparency. Americans can submit their own questions and receive direct responses without questions or answers being filtered by the media, she said.
"There might be a question asked that wouldn't have been asked at a press conference," she said. "It's a significant step forward for new-media communications."
Adam Ostrow, editor of Mashable.com, a guide to social media, said the online town hall-style meeting will encourage Americans to get involved beyond the election.
"It gives people a sense of participation and what is going on and to be able to shape some of the decision that will be made," he said.
E-mail to a friend

All About National Economy • Internet • Barack Obama