By Chris Pirillo





(CNN) -- I recently had someone ask me how I could justify paying what, to her, seemed like an exorbitant amount of money for my broadband Internet connection.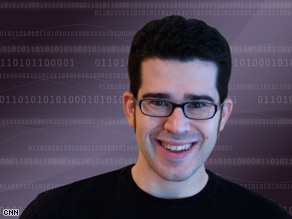 A self-admitted tech geek, Chris Pirillo is president of Lockergnome.com, a blogging network.
From my point of view, I couldn't afford to not have broadband! Giving it a little more thought, I came to the realization that broadband is -- and should be -- a justifiable expense for anyone on this side of the 21st century.
I do understand that not everyone shares my needs, but let's break a few things down and examine how a broadband connection can affordably make life in any average, modern household more rewarding -- even in this trying economy.
How much would dial-up cost in your area? $10? $20? Let's assume that you'd spend $40 a month on broadband Internet access. Even at $20 to $30 per month above what you're accustomed to paying, there are other potential savings hidden in that cost to consider.
If you have a telephone land line (something a dial-up connection requires), you're probably paying at least $20 per month for it. Did you know that, with broadband Internet service, you could be using Skype and making free voice and video calls with other Skype users?
Other VoIP (Voice over Internet Protocol), phone-alike services are available as well, and they're likely going to save you more money per month than sticking with that quaint, old-timey land line.
So, even combining your land line costs with whatever you're being gouged for dial-up, you're looking at $30 to $40 -- matching (or almost matching) the cost of broadband.
But, as you've heard on countless infomercials, "that's not all!"
How much are you paying for cable television? Most programming is now officially available on the Web and on demand to fit any schedule. Heck, even CNN.com has a live video stream for you to watch. (You ARE watching CNN.com live, aren't you?)
If you were hesitating cutting back on your entertainment budget, you could easily slash your TV service without losing access to your favorite content. Best of all? It's completely legal! If you rent DVDs through a Netflix account, you can even watch a pretty impressive number of its movies and television shows directly online for no additional cost.
You may not realize this, but newspapers are going away -- and with them, the stable of coupons you've been used to receiving. That's okay, because the Web is filled with coupons that can save you even more money on the things that you're going to buy anyway.
There are times when you need to drive down the road to pick up an item, but what if you could save a substantial amount (at least $10, even after shipping and handling) by ordering online from a reputable e-tailer? Would you not take that opportunity?
And how much is your spare time worth, really? Sure, you're saving precious minutes of your life every day when you browse the Web on broadband versus dial-up just in page loading time alone, but that's just the beginning.
Do you buy the same grocery items week in and week out? Consider ordering them online next time. Your store account will likely remember your list of items, and you can browse the virtual aisles without backtracking. They'll deliver (likely for free), and you'll have saved a substantial chunk of time people in less fortunate decades had to spend on driving, traffic, parking, and being accosted by hobos. Darned hobos.
The Internet's not just a virtual warehouse of incoming goods and services, though. Turn things around and get rid of clutter around your house that you no longer have any use for. Don't need it? eBay it! Someone will gladly pay a tidy sum for that empty old 60-gallon aquarium you've got sitting in your garage or the entire Leo Sayer collection you got for Christmas from that well-meaning aunt who misunderstood your request for "Slayer."
Broadband Internet is one of those rare instances in life that's too good to be true -- yet is! To not recognize and take advantage of its countless uses makes as much sense as paying for three shoes when you only have two feet. Or buying a unicycle with training wheels. Or filling up the tank on a gas-powered harmonica.
People probably used to think libraries were a pretty radical idea, too. Now we accept them and even take them for granted -- I know I'd never live in a town without one! The same goes for broadband.
And as much thought as I've put into it, I'm sure some of you reading this can probably dream up even more uses for broadband Internet that I've forgotten -- or not even considered! Drop me a line and show me what you've got.
E-mail to a friend