By Caroline McCarthy






(CNET) -- We knew Facebook was about to hit 200 million active users, but now it's official, per a post Wednesday by founder and CEO Mark Zuckerberg on the company's official blog.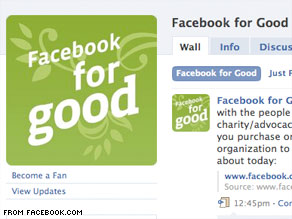 Members can share stories about how the social site has helped them give back on this page.
"We will welcome our 200 millionth user to Facebook some time today," wrote Zuckerberg, who's just over a month away from his 25th birthday. "Growing rapidly to 200 million users is a really good start, but we've always known that in order for Facebook to help people represent everything that is happening in their world, everyone needs to have a voice."
To commemorate the occasion, Facebook has launched a page called Facebook for Good, a page for members to share stories and experiences about how the social site has helped them give back.
It has also partnered with 16 charities and advocacy groups that have created virtual "gifts" that members can buy for one anothers' profiles. Most of the proceeds of the sale will go to the charity--Zuckerberg wrote that the rest will go to administrative costs, not to Facebook.
The partner organizations include a few longstanding names in charity like the American Red Cross and the American Heart Association, as well as newer tech-industry favorites like micro-loan start-up Kiva, shoe retailer Toms, and clean-water group Charity Water.
The campaign also puts Facebook's virtual-gift platform and "credits" system back in the spotlight at a time when, after much anticipation, the company is finally starting to make some moves in the micropayment space.
Slightly over a year ago, at the South by Southwest Interactive Festival, Zuckerberg was asked about Facebook's plans in the philanthropic space. His response was that the company wasn't yet at that point.
"I think at this point, because we're not incredibly profitable, we're not at that stage of the company--hopefully we get there--that's not really something that we can do a lot of," he said to CNET News last March. "But I'd like to think that just what the company is trying to do in general, just helping people communicate, is actually making the world better."
A year later, Facebook's revenues are up, but not as much as some critics say they ought to be. This kind of growth isn't cheap--and with 200 million users, Facebook still has a lot of work to do on the business side, not just in the feel-good, change-the-world department.
E-mail to a friend

© 2009 CBS Interactive Inc. All rights reserved. CNET, CNET.com and the CNET logo are registered trademarks of CBS Interactive Inc. Used by permission.
All About Facebook Inc.