(CNN) -- Video nominees for the 13th annual Webby awards, which honor excellence on the Internet, have a decidedly political flavor -- reflecting a year dominated by a historic presidential election.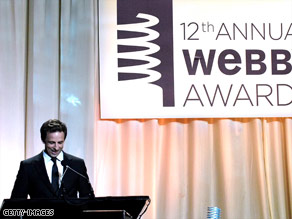 "Saturday Night Live's" Seth Meyers hosted last year's Webby Awards and will do so again June 8.
Among the nominated videos announced Tuesday were Sarah Palin parodies, a fake Paris Hilton for President ad, Sarah Silverman's "The Great Schlep" and a "Prop 8 -- The Musical" spoof starring Jack Black as Jesus.
Other film or video nominees included Isabella Rosellini's "Green Porno" short films about animal sex, a "dance remix" of a profane outburst by Fox News' Bill O'Reilly and a live webcam of adorable Shiba Inu puppies that captivated online viewers last fall.
The Webby Awards honor work in more than 100 categories within four broad areas: Web sites, interactive advertising, online film and video, and mobile.
Among the Web sites earning multiple nominations Tuesday were NYTimes.com (13 nominations), NBC.com (12), The Onion (eight), Sundance Channel (five), Wired.com (four) and the online portal for the movie "Coraline" (four).
Other nominated sites included RocktheVote.com (activism), TheNewYorker.com (writing), The Huffington Post (political blog), the Sundance Channel (best home page), Mint.com (financial services), Muhammad Ali's Web site (best celebrity/fan site), upstart The Daily Beast (news) and "Rock Paper Scissors Extreme Deathmatch" (games) on AdultSwim.com.
Don't Miss
Established in 1996, the Webbys are presented by the International Academy of Digital Arts and Sciences, a 550-member body of Web experts, business figures and celebrities -- including such diverse figures as musicians Beck and "The Simpsons" creator Matt Groening.
Academy members select the nominees in each category, as well as the winners. But the online community determines the winners of a People's Voice award by voting for their favorite nominated work in each category.
Last year's Webby Awards received nearly 10,000 entries from over 60 countries and all 50 states, and generated more than 750 million media impressions worldwide.
Fans have until April 30 to vote for their favorites at the Webby People's Voice site. Winners will be announced May 5, with the trophies handed out June 8 at an event in New York City hosted by "Saturday Night Live's" Seth Meyers.
The gala will showcase the Webby's famous five-word acceptance speeches. Past high-profile speechmakers included Al Gore ("Please don't recount this vote") and Stephen Colbert ("Me. Me. Me. Me. Me.")
E-mail to a friend