By Lara Farrar
For CNN





(CNN) -- The next time you go to throw away your old mobile phone, Gert-Jan van Breugel hopes you bury it in a garden instead of tossing it in a garbage can.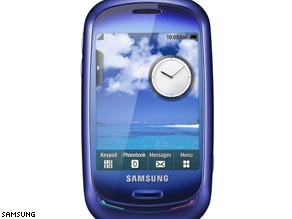 Samsung's Blue Earth handset is made from recycled water bottles.
That is of course if the cellphone you're using is the biodegradable bamboo handset he's designed with bamboo seeds implanted in its case that should start to sprout when the mobile disintegrates in the ground.
The phone is also energy independent -- a three-minute turn of the crank on its back provides enough power for a (short) phone call or a few text messages.
"I think in a couple of years we will see a lot of greener phones on the market," van Breugel, a Danish product designer who was recognized at a green electronics competition for his environmentally-friendly phone, told CNN.
"Maybe it will even turn into something like a hype or have some other potential."
Major handset manufacturers are also hoping to tap into what some predict will be growing demand in coming years for greener mobile devices from consumers concerned about reducing their carbon footprints.
In recent months, a number of phone makers have unveiled eco-friendly handset designs featuring everything from solar panels to casings made from recycled plastic bottles in an attempt to gauge market interest in Earth-conscious cellphones.
The industry's move towards green also comes after facing harsh criticism from environmental groups for the use of hazardous materials in handsets, which often end up being released into the atmosphere and water in developing countries where millions of the world's unwanted mobiles end up in landfills or are improperly recycled or burned.
However, even as interest in green products continues to grow, the question yet to be answered is, will consumers be willing to pay a premium for green cellphones?
There is some research that says yes they will while there's other research that says people don't really care about green," said Tom Byrd, an industry analyst with UK-based CCS Insight.
Don't Miss
"What they really care about is making things cheaper for them. As long as they've got a roof over their heads, they might start thinking about green, but if they haven't got a job, then green goes out the window," added Byrd.
A study from Strategy Analytics found a majority of consumers in Europe and the United States gave low priority to purchasing a phone manufactured in a sustainable manner with eco-friendly materials.
Yet the survey also indicated a small percentage of affluent, environmentally concerned consumers are willing to pay more for a green phone as long as it also has high-end features and a stylish design.
"Unfortunately the current products out there are low-spec, entry level products which simply won't appeal to the eco-conscious consumer," Kevin Nolan, an analyst with Strategy Analytics, said via email.
"No wonder if you ask a typical consumer to imagine an eco-friendly mobile phone, they will assume that it will be compromised in terms of design or features as a trade-off for the fact that it is green."
Even though it's generated a lot of buzz, the bamboo phone van Breugel designed is only capable of making voice calls and sending text messages.
Other green handsets, like the solar-powered one launched by Chinese manufacturer ZTE in partnership with Latin American service provider Digicel, also only have basic features.
ZTE says it is exploring other markets for the solar phone in developing countries where there is limited access to electricity but does not plan to launch such a product in China, the largest mobile phone market in the world, because consumers are largely only interested in buying flashy handsets equipped with cameras, music players and Internet access.
Customer demand for the latest mobile technology driven by phone makers continually coming out with more sophisticated products is one of the main challenges the industry faces in trying to become more green, says Iza Kruszewska, a toxics campaigner for Greenpeace International.
"We say to companies that through your marketing you stimulate customers to keep replacing their handsets because they want new features or new colors or new whatever," Kruszewska told CNN, noting the first life of a mobile phone is between 18 and 24 months.
"While we have these types of production consumption systems, even the greenest mobile phone in terms of its immediate energy use or use of hazardous substances is never going to be truly sustainable."
However some big name companies are making green phones to meet the needs of tech savvy consumers constantly looking to upgrade to the latest technology.
Samsung Electronics plans to release its Blue Earth solar-powered handset later this year in Europe. The company says the pebble-shaped phone, which is free from hazardous substances and made out of recycled water bottles, "is the first eco-friendly phone that has an attractive style without a compromise in features, product design or UI (user interface)." Watch Adrian Finighan at the Mobile World Congress testing the Samsung Blue Earth

Blue Earth also has an energy saving "eco mode" as well an "eco walk" function that calculates how much carbon emissions have been saved by walking as opposed to taking transportation, even allowing users to calculate the value of their carbon footprint through the number of trees that have been saved. Samsung says it has not yet determined a price for the phone.
Motorola recently released its MOTO W233 Renew, which the company says is the world's first carbon neutral phone. Also made from recycled bottles, Renew itself can be almost completely recycled and is sold in packaging made of 100 percent recycled paper. Motorola pays to offset the carbon emissions generated from manufacturing and distributing the handset as well as to recycle the phone at the end of its life.
Instead of focusing on the development of one green model mobile phone, other manufacturers, like Sony Ericsson and Nokia, are working to incorporate sustainable features across an entire portfolio of handsets.
Last year, Sony Ericsson unveiled a concept phone called GreenHeart, which is made of biodegradable parts and comes with an energy efficient charger and an electronic manual instead of a paper one. The company says it will use the concept to study how to implement sustainable features across all of its products.
"There is a risk you go into gimmicks and marketing ploys around green products," said Sony Ericsson sustainability director Mats Pellback Scharp. "If you don't do the right thing for the right reason, there is a risk the consumer will lose faith in you as an industry and you as a company."
Scharp says Sony Ericsson has opted out of adding features like solar cells to handsets because the amount of energy used to produce cells in most cases will be much more than the amount saved by using them to charge a mobile device.
"The payback time from an energy perspective is over five years for a solar cell if you don't put it in the sun all of the time," Scharp said. "We don't think it has any benefit from an environmental perspective."
Nokia, the world's biggest handset manufacturer, also has incorporated a number of green features into many of its phones. All of its devices are up to 80 percent recyclable and come with energy efficient chargers. In addition, the company operates the largest voluntary mobile recycling program with nearly 5,000 collection points around the world.
Nokia is developing eco-friendly applications that can be run on handsets as well. The Nokia 5630 Xpress Music comes with preloaded software called "we:offset" that lets users calculate their carbon emissions. Another program called "Green Explorer" enables users to plan their travel more sustainably.
"Only when we have many products with many features in large volumes that consumers start to buy then it starts to make a difference for the planet," said Mitti Storckovius, head of Nokia's environmental initiative team.
"If we just have a showcase phone in a glass podium, and we say here is our green phone, it really doesn't help anyone if it is not in use by the masses."
E-mail to a friend