By Cherise Fong
For CNN





(CNN) -- Nip-tuck tourism is already well-ensconced in its ways, but technology used to give prospective clients a user-friendly yet professional virtual space to explore their options is starting to break the skin of the industry.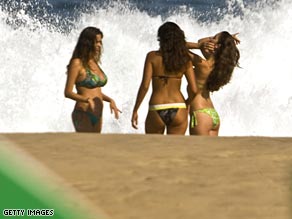 Brazil's Rio de Janeiro, where the girls from Ipanema strut their stuff, is renowned for its cosmetic surgery.
"It takes a lot of guts to walk into a plastic surgeon's office and sit in a waiting room amongst strangers and then proceed to disrobe in front of someone you've never met before and share your most intimate secrets," says Dr. Spero Theodorou of Park Avenue Smart Lipo, based in New York City's chic Upper East Side.
"We make this experience a little easier in the comfort of your own home, as now your plastic surgeon is only a click away."
The clinic opened its physical doors on Manhattan's Park Avenue in 2008. In February 2009, the company launched its virtual consultation recorded on video via Skype or iChat, in order to determine a potential client's eligibility.
While Park Avenue Smart Lipo says only 20 percent of its clients live outside the tri-state area (New York, New Jersey and Connecticut), it claims that 12-15 percent use the virtual consultation, with the number of patients increasing every month.
"The main reason for using the Skype/iChat platforms for our virtual consultation is that they are user-friendly and hence patient-friendly," Theodorou explains.
"The average age of our patients is 33, ranging anywhere from 22 to 38. This patient population is not only very comfortable with computers but tends to conduct a very large percentage of their interactions online."
Park Avenue Smart Lipo also takes security and privacy concerns very seriously.
"All computers have encrypted modes allowing us to record the consultation and add it to the patient's electronic medical record that we maintain in the office. All computers with [this information] have user-driven access controls. Our secure servers are one of the means by which we abide by laws on patient confidentiality," assures Theodorou.
Based in Cyprus, an increasingly popular destination for European tourists, Picture Perfect Medical Coordinators also offers a private, one-on-one virtual consultation.
After talking to a surgeon by phone or online, they can also browse and choose which one they would like to perform the operations before they make the trip abroad.
Like many other companies catering specifically to cosmetic surgery tourists, Picture Perfect accompany their clients throughout the procedure and can also serve as travel agents and possible tour guides in the process.
"From the moment any prospective client contacts us, they will have their own personal profile, which is confidential and updated on a regular basis, as we follow the process pre-operatively, post-operatively, throughout their recovery and for at least six months after their chosen procedure," say the coordinators Claire Makrides and Joanna Matsentides.
Virtual consultation, real travel
Rio de Janeiro-based CosmeticVacations' main market is from North America, which counts for about 90 percent of its clientele. It has developed its own proprietary system to facilitate doctor-patient-secretary relationships, with a user-friendly interface that is accessible on the Web.
"For 10 years I have been receiving patients from abroad, today approximately 40 percent of all my patients," says Dr. Domingos de Paola, one of the surgeons in CosmeticVacations' network.
"They all come through the Internet where they are able to search about me and my clinic and 'talk' via e-mail before a formal personal consultation. (This is also true for a great percentage of local patients, perhaps as a matter of inhibition or shyness.)
"Through these simple forms, which contain the patients' desires, their physical details, medical treatments and pictures of the areas they intend to operate, the doctor has a very clear status of the patient's reality and can therefore make a 'pre-consultation' with security."
Depending on what kind of cosmetic surgery clients choose and what kind of vacation they plan around it, packages don't come cheap, so one of CosmeticVacations' aims is to be as transparent as possible with their options.
"Patients usually do not pick their doctor by price, but by how comfortable they feel with the information they have received," says CosmeticVacations' director of development Michael Boeckle.
The company is set to upgrade its system to function in real-time, including automatic reminders, notes and tips, as well as a live chat to provide prospective clients with instant answers.
"You might want to think of it as a Facebook specially made for those patients who do not want to be limited to their neighborhood doctor," said Boeckle.
As people become increasingly mobile and are more and more willing to travel overseas for discreet cosmetic operations, virtual consultations and real-time medical-networking such as these may soon become the norm.
E-mail to a friend

All About Surgery • Cosmetic Medicine • Cosmetic Dentistry