By John D. Sutter
CNN





(CNN) -- On a recent morning, when many newspapers and news sites were buzzing about swine flu, voiceofsandiego.org wrote instead about a local science professor and his quest to understand the beginning of the universe.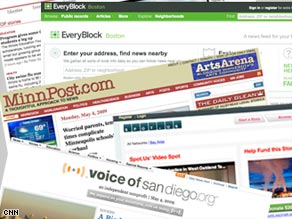 A new crop of "hyperlocal" news sites is surfacing online to fill the void left by failing news organizations.
The swine flu story was nowhere to be found.
To some news junkies, it may seem like the nonprofit news site missed the big story of the day. But this intentional omission fits right in with the independent publication's values.
It also indicates what the future of local news may hold.
"We don't cover anything unless it's squarely about San Diego, even national trend stories and stuff like that, we tend to steer away from," said Andy Donohue, the outlet's editor.
"Especially the way things are going right now on the Internet, you've got to be really focused on doing something really well -- and if you try to spread yourself too thin, you're not doing anything well."
With many newspapers ailing, there's been a steady drumbeat of layoffs at major news organizations -- nearly 25,000 jobs have been lost at papers since 2008, according to Paper Cuts, a blog that tracks the layoffs.
But a relatively new crop of "hyperlocal" news sites is growing into the void left by failing news organizations.

See how the Web is going "hyperlocal" »
Most of the hyperlocal sites focus exclusively on a community in a tight geographic area. Some are trying to find new ways to fund the news, since nearly all online information is free. They're also experimenting with unconventional ways of gathering the news: Several nonprofit news sites publish reports from volunteer reporters who are active in the neighborhoods they cover.
Other sites, such as EveryBlock.com, aggregate news on a block-by-block basis. EveryBlock.com pulls in government documents -- health inspections, building permits and crime reports -- as well as news articles and photos from sites such as Flickr to make news feeds with an extreme local focus.
And, with mixed success, some former newspaper reporters have banded together to create new, online publications. For example, some former employees of the Seattle Post-Intelligencer, which ceased print publication, formed the Seattle PostGlobe online.
Generally, the people who run hyperlocal Web sites say they are optimistic about the future of the news business. They say they won't be able to replace all that's being lost as large news companies crumble but say they are excited about the fact that they're able to offer something new -- at least for the moment.
It is crucial for people to try out new ways to tell and fund stories, said David Cohn, founder of Spot.Us, a San Francisco, California, site where visitors fund specific investigative story pitches.
"I am optimistic about the future of journalism provided that we have lots and lots of different startups," he said. "I think what journalism needs is 10,000 different startups." Read more about Spot.Us
Since 2004, when trouble in the news industry started to show, at least 800 community news Web sites have popped up, according to Jan Schaffer, executive director of J-Lab: The Institute for Interactive Journalism. The sites often do a better job at covering community news than large newspapers did, even before the papers started to collapse, she said.
Jane McDonnell, executive director of the Online News Association, said the hyperlocal movement places emphasis on community news that's written by volunteers who usually are entrenched in their neighborhoods.
The shift "means that there's less journalistic oversight over what is being disseminated and distributed and created," she said. "That raises all the natural questions about how valuable the news is going to be -- how credible it's going to be. I kind of think that argument is moot at this point because it's happening."
McDonnell said it's important for news consumers these days to be savvy so they can spot conflicts of interest and assess the reliability of what they're reading.
Some nonprofit news sites train their volunteers so they have a basic understanding of how to get the facts right and how to report fairly on controversial issues before they publish stories.
ChiTownDailyNews.org in Illinois employs four journalists but is in the process of training 350 neighborhood volunteers, said Geoff Dougherty, the publication's editor. Because they're embedded in the communities they write about, they find news the mainstream press would never hear about, he said. In one example, a volunteer reporter broke news of police brutality.
Mia Boyd, another volunteer for the site, said she found the training valuable. It will help her to analyze the west side of Chicago and the neighborhood of Hyde Park, where she plans to write about mental health and criminal justice issues.
Funding is a big question mark for the hyperlocal movement.
Writing in The Nation, John Nichols and Robert W. McChesney say these efforts are "mere triage strategies" that won't work in the long term.
"They are not cures; in fact, if there is a risk in them, it is that they might briefly discourage the needed reshaping of ownership models that are destined to fail," they write, advocating instead indirect government grants to fund the news.
Mainstream news organizations largely rely on advertising revenue. Hyperlocal sites tend to get a chunk of money from nonprofit organizations, some revenue from ads and some money from readers.
Others are trying entirely new approaches.
Spot.Us, for example, lets the public decide what stories are worth funding. The result is that paid journalists are more responsible to their audience, Cohn said.
Founders of hyperlocal sites say they're trying to serve a civic purpose.

"I think there is a bunch of media people going, 'Oh the world's collapsing.' And as much as that's true, [news is] not going to go away, it's just going to come into a new form," said Jason Barnett, executive director of TheUpTake.org, a site that largely covers Minnesota politics.
"There are more opportunities now for entrepreneurs to figure out a system. ... It's going to be tough but, in general, news is vital to our democracy. If it dies, so does the democracy."
E-mail to a friend

All About Newspapers • Internet