By Mike M. Ahlers
CNN





WASHINGTON (CNN) -- One is a assemblyman in California; the other a piano tuner in Pennsylvania.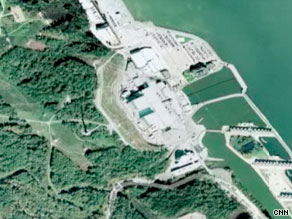 Critics fear that online aerial images of nuclear power plants in the U.S., like this one, could aid terrorists.
But when they independently looked at online aerial imagery of nuclear power plants and other sites, they had the same reaction: They said they feared that terrorists might be doing the same thing.
Now, both have launched efforts to try to get Internet map services to remove or blur images of sensitive sites, saying the same technology that allows people to see a neighbor's swimming pool can be used by terrorists to chose targets and plan attacks.
"It is disturbing to me that terrorists can now perform considerable surveillance without visiting the targeted site," piano tuner and nuclear watchdog Scott Portzline wrote in a letter to Homeland Security Secretary Janet Napolitano.
Portzline is asking the Department of Homeland Security and the Nuclear Regulatory Commission to seek voluntary compliance from satellite and aerial imagery companies to blur images of nuclear plants.

See how detailed these aerial images are »
Joel Anderson, a member of the California Assembly, has more expansive goals. He has introduced a bill in the state Legislature that would prohibit "virtual globe" services from providing unblurred pictures of schools, churches and government or medical facilities in California. It also would prohibit those services from providing street-view photos of those buildings.
"It struck me that a person in a tent halfway around the world could target an attack like that with a laptop computer," said Anderson, a Republican legislator who represents San Diego's East County. Anderson said he doesn't want to limit technology, but added, "There's got to be some common sense."
Without leaving his Pennsylvania home, Portzline can take a virtual tour of the nation's 66 nuclear power plants. Using the online mapping services, he zooms in on the iconic cooling towers of one plant and the less-distinctive reactor building.
But the more striking images come when Portzline clicks on the "bird's-eye" option offered by the map service. The overhead views, which come chiefly from satellites, are replaced with strikingly clear oblique-angle photos, chiefly shot from aircraft. By clicking another button, he can see the same building from all four sides.
"What we're seeing here is a guard shack," Portzline said, pointing to a rooftop structure. "This is a communications device for the nuclear plant."
He added, "This particular building is the air intake for the control room. And there's some nasty thing you could do to disable the people in the control room. So this type of information should not be available. I look at this and just say, 'Wow.' "
Terror expert and author Brian Jenkins agreed that the pictures are "extraordinarily impressive."
"If I were a terrorist planning an attack, I would want that imagery. That would facilitate that mission," he said. "And given the choice between renting an airplane or trying some other way to get it, versus tapping in some things on my computer, I certainly want to do the latter. (It will) reduce my risk, and the first they're going to know about my attack is when it takes place."
The operators of Three Mile Island, the plant closest to Portzline's home, say they are not worried about the online imagery.
"Our security programs are designed and tested to defend against (an attacker) that has insider information -- even more information then is available on the Internet," said Ralph DeSantis, spokesman for AmerGen, which operates the plant. "In addition to that, our physical security is constantly changing... so what you see one day won't be the same as the next day," he said.
The Nuclear Regulatory Commission tells CNN it has seen Portzline's letter and is reviewing the images.
"In the past we've considered such images to be dated and of sufficiently low resolution as to not be a concern. But we're taking another look because the resolution of nuclear power plants is something we take very seriously, and we frequently assess and reassess risk as the situation changes," said NRC spokesman Eliot Brenner.
But any action beyond requesting voluntary blurring of images may be well beyond the purview of the NRC or the DHS, industry officials say. That is because while the government licenses imaging satellites and restricts the resolution satellite operators can provide commercially, it does not license aerial photography, which provides the higher quality images.
Regulating aerial imagery of sensitive infrastructure would be problematic or impossible, a spokesman for one major satellite imagery company said, noting that people can take aerial photos of the CIA headquarters in Virginia while landing at Reagan National Airport in Washington.
And, he adds, "Who defines what sensitive is?"
Anderson, the legislator, said he first became concerned after hearing that terrorists used online mapping programs to plan the Mumbai, India, attack last November. His concern increased when he heard Hamas say they used the technology to help plan rocket attacks on Israeli cities.
He exposed the programs and saw photos of buildings so detailed he could identify air ducts and elevator shafts. "I thought, 'What's the useful purpose of having that level of detail?'" he said.
"We still have to live our lives, but I'm not sure that having intimate details of buildings that are high-risk targets is something we should do," he said.
Anderson said he understands his bill has First Amendment and censorship implications, and he has intentionally slow-tracked it so it can be given proper consideration. But he is adamant that something needs to be done.
"Techno-geeks hate it because they don't want any kind of limit on anything," he said. "If they could get down to the atoms in the brick, they would do it. The man on the streets says 'I get it. I don't know why I need to see the bricks to get to the building.'"
Microsoft, which operates one of the most popular map sites, said it operates with security and privacy in mind, but declined to say what images have been blurred or removed from its site.
"Our mapping products fully comply with U.S. laws...and have been designed to meet the demands of many of our customers," the company said. "While not all images are able to be removed, Microsoft also provides people and governmental entities with the opportunity to report images that may raise concerns and may remove or blur images brought to our attention. Microsoft will review all reports and make changes to the image as quickly as possible."
But is the cat already out of the bag? Is it too late to rein in detailed imagery?
"Yes, but..." Brian Jenkins, the terror expert, said. "I think there's utility in doing this (blurring images)."

"In the coming years, there will be additional security technology that will become available and additional things that we may want to do to further improve the security of those facilities. We would like to have the ability to do that without that being promptly broadcast on the Internet," he said.
"People think of security in physical terms, barriers, walls, fences. But mystery -- that is, creating uncertainty in the minds of would-be adversaries -- is an important component of security," Jenkins said. "This (imagery) takes away that uncertainty. It removes all mystery."
E-mail to a friend

All About Domestic Security Policy • Internet • U.S. Nuclear Regulatory Commission