By Kiran Khalid
CNN





NEW YORK (CNN) -- It is the awards show where techies are greeted like rock stars.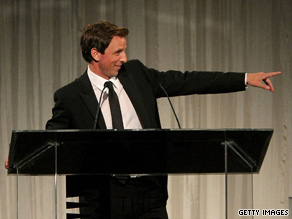 Seth Meyers of NBC's "Saturday Night Live" hosts the 13th annual Webby Awards on Monday night in New York.
Described by some as the Oscars of the Web, the Webby Awards pay homage to the best of the Internet.
From videos that went viral to the stars who graced them, the 13th annual Webby Awards on Monday night gave online pioneers their due respect in the form of a trophy one recipient described as a "bedspring."
Known for its unorthodox format, the irreverent awards ceremony featured its traditional five-word speeches and videos showcasing the "raw talent" found only online.
Seth Meyers of NBC's "Saturday Night Live" hosted the show, and this year's recipients reflected the diverse Internet audience.
Honorees included Nine Inch Nails frontman Trent Reznor for artist of the year and The Huffington Post's Arianna Huffington, who won for best political blog.
Huffington's speech was a tad defensive: "I didn't kill newspapers, OK?"
Don't Miss
This year's show unveiled a new category, Webby for Internet famous, to honor those who had created an online following.
There were also those whose fame segued from television to the Web, such as Lisa Kudrow, who won for her role as an online therapist in "Web Therapy" and Sarah Silverman for "The Great Schlep" and "I'm F**king Matt Damon."
Tweeting his way to the top of the pack was Biz Stone, who garnered the Webby for breakout of the year as co-creator of the Internet phenom, the micro-blogging site Twitter.
There were no upsets among the categories as they had been announced before Monday's star-studded gala at Wall Street's Cipriani. But there were some surprises, such as when recipient Richard Buschman uttered his five-word speech: "Erna, will you marry me?"
No one was more surprised than Buschman's fiancée, Erna Bomers, who had been told to come to film the speech so her boyfriend could share it with his co-workers.
Actress Cameron Diaz presented a Webby to late-night talk-show host Jimmy Fallon for person of the year.
His speech? "Thank God, Conan got promoted."
Of course, Fallon was referring to Conan O'Brien, who moved over to "The Tonight Show," allowing Fallon to air.
And the man whom the Webbys credit for creating the Worldwide Web, Sir Tim Berners-Lee, was honored with a Lifetime Achievement Award by journalist Charlie Rose.
Berners-Lee received the only standing ovation of the evening and wrapped up the hope for the Internet's future with this statement: "Free. Open. Keep one Web."
E-mail to a friend

All About Arianna Huffington • Internet • Seth Meyers