By Chris Pirillo





(CNN) -- Last week, Apple released a free update for iPhone users, pushing them to the third iteration of their mobile operating system. (Yes, iPod Touch users are welcome to upgrade, too, at a very reasonable cost of $10.)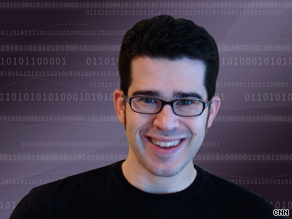 A self-admitted tech geek, Chris Pirillo is president of Lockergnome.com, a blogging network.
Does the new software live up to the hype and buzz generated? Absolutely.
Here are 10 things I love about the iPhone 3.0 operating system:
1. Copy & Paste. I can't believe how many people have slagged the iPhone OS simply because it didn't support simple clipboard features. Not only does 3.0 support copy and paste functionality, but "Select All" as well. Top THAT!
2. Search. Press the Home button (that circular button at the bottom of your iPhone) on the first Springboard page (the screen with all the app icons) and you'll be whisked away to the Spotlight search function, where you can look for apps, e-mails, contacts, calendar appointments, notes, etc.
3. App installation limitation has been removed. Previously, you could only have up to 144 apps accessible on your iPhone. This wasn't a problem for most people, but as someone who is addicted to free apps...this was a long overdue update.
4. Improved photo management. Now, you can email up to 5 images easily from the photo management app. Moreover, you can delete images en masse instead of individually. The live camera app also shows a thumbnail (small image) of the previously-snapped photo, too. The entire experience has been optimized.
5. Find my iPhone. Wow. WOW. If you have a MobileMe account, you can link it to your iPhone - and from the Web, click a button to geolocate your device. You'll see where it's at in an embedded Google Map in your Web browser. You can then send a short message directly to your iPhone's screen, have it emit a sound for two minutes, and even remotely wipe all stored data. This means: FEWER LOST OR STOLEN PHONES. Sorry for using caps here, folks, but I can't stress enough just how amazing this feature is. It's a game changer. Remember it the next time you lose your phone (or someone steals it from you).
6. Voice Memos. Using the microphone, you can now record, save, and email audio at a moment's notice. There's even this cute little VU meter at the bottom of the screen so you can make sure you're not going into the red (and yes, I just referred to a screen element as "cute"). The only shortcoming to this new tool is that the audio is saved out in a format that some users may not be able to hear (M4A, as opposed to MP3).
7. Stereo Bluetooth. Time to dust off that wireless headset! The iPhone can now be paired with compatible devices supportive of stereo audio. Fewer cords, FTW! Oh, and that's an acronym of "For The Win" (which is something all the cool kids are apparently saying these days).
8. MMS, kinda. Everybody in the world can now send and receive rich data via SMS -- unless you live in the United States and go through AT&T as a service provider. Yeah, despite having plenty of time to prepare for this update, AT&T is suggesting that multimedia messaging will be available for iPhones "later this summer." FTL! Oh, and that's an acronym of "For The Loss" (which is another thing all the cool kids are apparently saying these days).
9. Safari is faster. You know -- the iPhone's Web browser? You now have "autofill" functionality, which will automatically populate fields with data from your own contact information. Plus, Safari will now remember usernames and passwords once they're filled in, which is more than a major convenience.
10. Emoji is still an option. If you haven't already done so, go ahead and search for "emoji" in the iTunes App Store. One of those apps will likely enable the feature that's really only supposed to be available for Japanese users. It's a series of little graphics that can be seen and used throughout all iPhone apps - including text messages to other iPhones! My favorite emoji-enabling app is "Typing Genius" at 99 cents (if only because you get emoji enabled in addition to having a typing speed challenge app).
With every revision of the operating system, Apple continues to remove objections to the iPhone. Don't be dissuaded by the price -- consider the cost of your current mobile communications device, and how much you can't do with it.
I was one of those who didn't want an iPhone in the beginning. Two years later, I simply can't imagine my life without it.
E-mail to a friend