By Steve Mollman
For CNN





(CNN) -- China has announced it would indefinitely postpone a mandate requiring all personal computers sold in the country to be accompanied by a controversial content-filtering application, state media reported.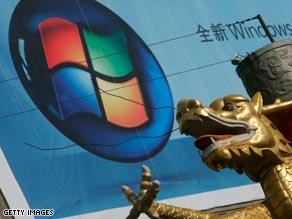 PC makers are being ordered to include software that could affect the quality of their products.
The Tuesday announcement came one day before a government-set deadline that would have required the software, called Green Dam-Youth Escort, to come with all PCs, according to the official Xinhua news agency.
The Chinese government has said the software is chiefly a way for parents to protect children from pornography. But a wide range of outside parties have expressed concern about the software.
A letter was sent directly to Premier Wen Jiabao on June 26 and signed by an international group of more than 20 business associations including the Business Software Alliance, Consumer Electronics Association and both the U.S. and EU chambers of commerce.
China's central government announced in May that the Green Dam software package must accompany all new computers in China. Citing China's Ministry of Information Technology, China Daily recently reported the government policy came "in response to calls from many schools and parents."
The number of people online in China has swelled in recent years. The nation surpassed the United States in 2008 as the world's top user of the World Wide Web, according to a Chinese government-backed research group.
Critics of the application say it is capable of causing glitches when a PC user types or encounters "forbidden" political content. And some independent researchers have demonstrated that the application has programming errors that expose users to security risks.
A June 11 report by researchers at the University of Michigan stated that because of security vulnerabilities, "any Web site a Green Dam user visits can take control of the PC."
Don't Miss
A week later the researchers re-investigated the program after the software maker, the Jinhui Computer System Engineering Co., dispatched a patch designed to fix at least some of the problems.
"Despite these attempts to make the software secure," they wrote, "we found a new remotely exploitable vulnerability in the patched program. It took us just over an hour to find this new vulnerability."
Meanwhile, Hal Roberts, a Harvard University researcher, showed how the program could freeze a browser every time the user types the letter F into the location bar.
In his demonstration posted on YouTube, this happened after the letter became associated via the browser's auto-complete list with the Web site falundafa.org, which is related to Falun Gong, the religious sect banned in China.
Through Green Dam's auto-update feature, authorities can keep PCs current on which content is forbidden.
"If you operate an Internet business in China, you know there are really only two topics to avoid," according to Richard Lim, a managing partner at Beijing-based venture capital fund GSR Ventures.
"You avoid politics -- especially certain types of politics -- and you avoid pornography. Pretty much everything else is fair game."
On Chinese-language blogs and other sites, according to Lim, there has been a lot of discussion about Green Dam and the company that created it for the government.
According to the Web site of China Daily, the country's official English-language newspaper, the government paid Jinhui Computer System Engineering Co. a little over $6 million for the development, future maintenance and updates of the software.
The software, which is for Windows only, is not noteworthy in a technical sense, according J. Alex Halderman, one of the researchers and a professor at the University of Michigan.
"Its main features are keyword and URL-based filtering, image recognition, and contextual phrase recognition, all of which have been used before by other filtering programs," he noted in an email.
"Blocking political speech isn't even unprecedented--some filtering software used in the U.S. allows parents to block categories of sites with certain political leanings."
What's unusual, he noted, is "for a government to license one particular software product and then require PC makers to ship it."
The Open Net Initiative, an academic consortium focused on censorship and surveillance, reported that it was "unprecedented" for a government to demand, at an individual level, nationwide use of a particular company's software.
Concern about the software goes beyond censorship watchdogs. PC makers are being ordered to include software that could affect the quality of their products.
A June 24 letter from the U.S. Department of Commerce to the Chinese government listed "numerous concerns raised by global technology companies, Chinese citizens, and the worldwide media about the stability of the software, the scope and extent of the filtering activities and its security weaknesses."
Despite such communication, there has been no indication so far from the Chinese government that the rule will be revoked, only delayed.

PC makers, then, may eventually find themselves stuck between a rock and a hard place. On the one hand China's large market is rather difficult to ignore. According to research firm Gartner, last year about 14 percent of the world's PC sales occurred in China, and that number should increase to almost 16 percent by 2012.
But by including Green Dam, they, for starters, leave themselves open to quality issues and accusations of abetting censorship.
E-mail to a friend

All About China • Internet • Censorship