(CNN) -- Danny Seo is a green lifestyle expert who champions green consumerism.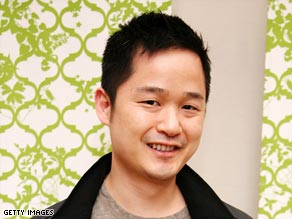 Danny Seo is a green lifestyle guru and champion of green consumerism.
From LED bulbs to power-saving plugs, he told CNN Eco Solutions which green home appliances currently on the market were his favorites.

View the gallery of Danny's picks »
Author of "Simply Green", his green style tips have also appeared in the pages of magazines, on TV shows, and recently he's added his green thumbs up to products. Seo also serves as the Green Living Partner for U.S. store JCPenney and is a partner of Method Products.
Kohler Carafe Kitchen Faucet
Danny Seo: "We all know drinking filtered water at home is good for us and the planet, but many of the screw-on faucet filters can be unsightly or simply get in the way. This faucet has integrated two-in-one features as both a kitchen faucet and water filter. It looks seamless and cool, and it saves thousands of plastic water bottles, too."
The JCPenney Simply Green Shag Rug
Danny Seo: "Speaking of water bottles, I have one of these cozy shag rugs in my kitchen because they look great and they are made from 100 percent post-consumer recycled polyester from old water bottles. Each 5x8 rug uses 200 plastic water bottles, saving energy and reducing waste in our landfills."
Belkin's Conserve Surge Protector
Danny Seo: "We all know that our major electronics can trickle away energy even when turned off, so we should plug them into a surge protector and turn the entire power strip off when we're not watching TV or using the DVD player. But many outlets are tucked away and hard to reach. Belkin's Conserve Surge Protector solves that problem by using a wireless remove to turn on and off the power strip."
LEDtronics Edison Style LED Bulb
Danny Seo: "LED bulbs are the future of lighting. LED (light emitting diodes) do not actually heat up using a filament like traditional bulbs; instead it's the movement of electrons that create light. These bulbs also last a long time --around 8 times longer than long-lasting CFL (compact fluorescent lamp) bulbs -- meaning some can last around 20 years. Plus, they are super energy efficient. What I love about these Edison style LED bulbs is that you can see all the individual diodes inside each bulb, so using them in exposed lighting makes the whole science of LED exposed and looks cool."
Method Smarty Dish
Danny Seo: "This is a mono-dose, bleach-free, phosphate-free dishwashing tablet that does wonders to get dishes truly clean in your automatic dishwasher, but it also does wonders as a laundry boost. Whenever I'm doing a load of laundry that might need chlorine bleach for whitening, I'll throw one of these tabs into the drum of the machine to oxygenate the stains away and keep the white, well, white."

Cooks Tabletop Convection Oven
Danny Seo: "In the kitchen, you have to think about the real energy hogs. One that comes to mind is the oven. Instead of heating up a large oven to cook or re-heat one small dish, think countertop convection ovens, which are smaller, much more energy efficient and have the even-cooking of traditional convection ovens. You'll save money on your electric bill and your cooking time will be faster, too, since the smaller oven heats up in faster time."
E-mail to a friend