By Priya Ganapati





(WIRED) -- After letting Kindle dominate the e-book reader market for two years, Sony has fired a huge salvo in return.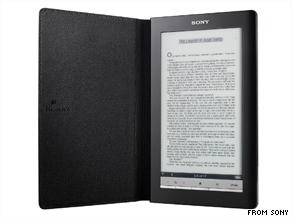 Sony's newest e-book will add wireless 3G connectivity and a 7-inch touchscreen.
The new Sony Reader Daily Edition adds wireless 3G connectivity from AT&T, a larger 7-inch screen, and a touchscreen. The company has also created a feature called Library Finder that will allow users to borrow e-books from their local libraries, for free.
The Reader Daily Edition will cost $400 and is expected to be in stores this December.
"Sony has given the market what everyone was waiting for in terms of a wireless device," says Sarah Rotman Epps, a Forrester analyst who has been covering e-readers. "Not only that, they have gone one step further, and shown their latest product is no copycat of the Kindle."
Since Amazon introduced the Kindle in 2007, e-readers have become a surprisingly hot consumer product category. Though Sony was the first to launch an e-reader, the company has lagged behind its biggest rival. One key missing feature was wireless connectivity: Until now, Sony Reader users who wanted to purchase or download books had to connect their e-reader to a PC using the USB connection.
By contrast, the Kindle has always offered free over-the-air wireless downloads of books through Sprint's network. Amazon also aggressively pursued publishers, enabling the company to offer a wide selection of popular books for download.
Now Sony is fighting back on both the features and the content fronts. The Reader Daily Edition offers portrait and landscape orientation. In portrait mode, about 30-35 lines of text are visible, offering an experience similar to that of a printed paperback book, says the company. The device has enough internal memory to hold more than 1,000 standard e-books, says Sony, and it has expansion slots for memory cards.
The Reader Daily Edition is the third new e-book reader the company has introduced in the last few weeks. Earlier this month, the company launched a $200 5-inch screen device called the Sony Reader Pocket and a $300, 6-inch touchscreen model called the Sony Reader Touch. Amazon's Kindle 2 e-reader with 6-inch display sells for $300 and the large 9.7-inch screen Kindle DX costs $490; neither of them has a touchscreen.
Sony Reader's second big weakness compared to the Kindle has been access to content. Amazon's position as a leading online retailer of books helped the company offer a wide selection of e-books to Kindle buyers that were competitively priced and easy to download.
To match that, Sony has partnered with OverDrive, a distributor of e-books to libraries, to offer its customers easy access to the local library's collection of e-books. Sony Reader customers can use the company's Library Finder software and check out e-books with a valid library card. Users will have to download the books to a PC first and then transfer them to the Reader. The e-books will expire at the end of the 21-day lending period.
Sony has also said it will adopt the open EPub format in a move that allows consumers to purchase or download books from the Sony store and read them on any EPub-compatible device. In contrast, Amazon uses a proprietary file format that only allows users to read books they've bought using the Kindle, or Amazon-sanctioned Kindle software.
"From the beginning, we have said that an open format means more choice for consumers," says Steve Haber, president of Sony's Digital Reading Business Division. "Now, readers can shop around for what interests them rather than be locked into one store."
Still, it won't be easy to beat Amazon, says Epps.
"Sony is number two in the market and though they are in a strong position to close the gap with Amazon over the holiday season, I expect Amazon to still be the market leader in early 2010," she says.
"Amazon has built a very strong relationship with e-book buying consumers that were the first wave of adopters of electronic readers," says Epps.
Sony's Daily Edition e-reader will also have to contend with newer rivals vying for a piece of this fast growing segment. IRex, a Dutch company, said Monday it will launch a 8.1-inch touchscreen e-reader in the United States later this year. IRex has partnered with Barnes & Noble to use the latter's e-books store to power its device. Meanwhile, another company, Plastic Logic, has been working to introduce its notepad-sized 8.5-inch reader targeted at business users.
"Consumers are now split between the small pocket-sized devices with 5-inch or 6-inch screens and the larger screen 8-inch to 10-inch screen readers," says Epps. "But it is not over yet. The market is still evolving."
E-mail to a friend

Subscribe to WIRED magazine for less than $1 an issue and get a FREE GIFT! Click here!
Copyright 2009 Wired.com.