By Steve Mollman
For CNN





(CNN) -- This summer a San Francisco cafe called the Marsh began advertising to passersby that Foursquare "mayors" of its establishment could get free drinks.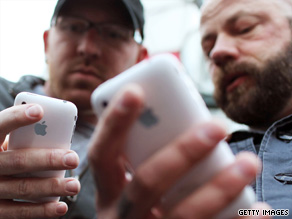 Run for mayor: Could Foursquare's location-based social media game give a boost to local biz?
Few customers know what that means. But as a promotional effort, the strategy has worked -- primarily because the strategy itself is interesting, which makes for a good local news story, which generates publicity and traffic.
Foursquare's founders hope that the service itself, not just publicity about it, will drive more traffic in the future.
The start-up, just three people working out of New York, began operations in January and launched the service in March. So far, Foursquare has a presence in about two dozen cities, nearly all in the U.S.
Foursquare is a social media "game" -- or tool, depending on how you view it -- that's accessed from smart phones and computers. Most users are on iPhones.
They can meet each other, write or read tips about a particular restaurant (such as what's good on the menu), or earn a "School Night" badge, for instance, by checking in to a venue after 3 a.m. on a weekday.
It's all light-hearted, the system can be gamed, and most players don't take it too seriously. Still, there is casual competition, especially to become mayor of a venue, which happens when you visit a place more than anyone else in the past 60 days.
Being tiny, the company does not yet make sales pitches to venues, or charge them to run promos on their Foursquare page. That was never, in fact, part of the plan. It was venues themselves that started, without prompting, to offer discounts to Foursquare mayors, using Twitter or sidewalk signs to get the message out.
"That's when we started thinking about how we could start working more closely with local merchants," says cofounder Dennis Crowley.
Now they encourage users to approach venues -- a sort of crowd-sourced evangelizing. The Marsh Cafe got its promo idea from a customer.
Eventually Foursquare might hire a sales team and charge a small fee for promos. Venues could choose from discount schemes and get stats on things like numbers of check-ins and how users behave -- for instance, do they tend to visit that nearby bar after leaving?
Discounts might go to mayors, or to groups of five, or to anyone who checks in 10 times a month.
Some users cheat. For instance, they check in from a distance, only pretending to patronize a venue. Foursquare is getting ready to address some of these problems, but Crowley says it's hard to make a system that can't be gamed somehow.
In any case, one free drink isn't usually a huge issue. A San Francisco restaurant called Showdogs (which also uses Foursquare) will give a free drink to anyone who barks like a dog on a Thursday. The bigger goal is generating traffic and the additional sales after that first drink.
Don't Miss
If Foursquare acts as a kind of loyalty card, it's a smarter, more connected one. Upon check-in, a user's presence can be broadcast to friends, which is like an advertisement for the venue. In fact some venues request to see a user's check-in on the phone's screen before giving the discount.
For now, Foursquare's priority is getting as many people as possible using the service. It's got a long way to go, but at least it's operating in a high-growth market.
Borrell Associates, a research firm, indicates its projection of 8 percent growth in online local ad-spending for 2009 needs adjustment to 11 percent -- possibly higher. It's pegging the market now at over $14 billion.
Foursquare isn't the only intriguing startup trying to grow in this rich soil. EveryBlock aggregates a variety of local information -- police calls, restaurant inspections, online restaurant reviews, and so on -- relevant down to the level of a city block. It was just bought by MSNBC.
EveryBlock is experimenting with various kinds of ads, but its viability remains unproven as well. The Washington Post recently shut down its own hyperlocal experiment.
If EveryBlock can be said to provide local news without the local newspaper, Foursquare gets rid of the news altogether. Both ideas likely disturb anyone concerned about the fate of local newspapers, many of which are struggling or folding.
Newspapers and their Web sites have the mind-set, naturally, that local online advertising goes perfectly with local news and information. But if Foursquare or similar efforts catch on, then many local bars, cafes and restaurants will be promoting themselves through a social media game -- and the news won't factor in at all.
Such venues -- for now Foursquare's main target -- are just one sliver of the local ad market. Neither a plastic surgeon nor a landscaping service would likely promote via the service.
But then different venues will use different tactics. A home security consultancy might advertise in a newspaper that has articles on local crime -- or on EveryBlock, which lists police calls.
Some bars and restaurants might like the playfully social feel of Foursquare and promote through it partly for that reason.
Of course, promoting via Foursquare is no guarantee of success. In fact one of the first venues to offer freebies to Foursquare mayors, a Denver area restaurant called Spuds Bros., just went out of business.
Time will tell if Foursquare fares any better.
E-mail to a friend