By Richard Branson and Kathleen Rogers
Special to CNN





Editor's note: Sir Richard Branson founded a mail-order record retailer in England in 1970 that grew into the Virgin Group of about 200 companies in over 30 countries. Kathleen Rogers is president of the Earth Day Network which promotes environmental causes, and she has worked for more than 20 years as an environmental attorney and advocate. For more information, please visit http://www.earthday.net/.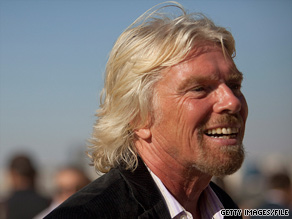 "We need a revolution," writes Richard Branson. "A revolution in the way we think about the world."
(CNN) -- As global leaders convene in New York City for UN climate change talks and the Clinton Global Initiative, the world is in greater peril than ever. But we also have unprecedented opportunities to build a sustainable future.
While technology continues to improve the standard of living for millions, there are still millions more living in abject poverty. Thousands of people die every day from preventable, treatable diseases like AIDS, TB, and malaria.
Conflicts continue to devastate the globe, leaving far too many people with no education, no democracy, no government, no enforceable legal system -- and often no simple choices to lead themselves to a better life.
To compound these troubles, our planet faces its biggest challenge and greatest threat from the increasing problems posed by climate change. The only way we can address the scale and urgency of this challenge is by coming together.
We need a revolution. A revolution in the way we think about the world. A revolution in the way we work together for common interest, and a revolution in our approach to tackling tough social and environmental problems.
This revolution will reinvent our economic system, to ensure the sustainability of life on our planet by developing a world of prosperity for all in a low carbon economy. We have personally seen the results of bringing together the best minds from all sectors to think through how each of us can contribute to such a revolution.
It is an imperative that transportation companies look for alternatives to dirty fuels , and while re-engineering our businesses to reduce our carbon footprint, we're investing in clean technology and partnering with companies committed to doing business responsibly.
More businesses must join with governments, entrepreneurs, and non-profits to address climate change. People will matter most in this fight -- we need entrepreneurial spirit and energy to come together with a whole new way of working in the world.
Similar to "The Greatest Generation" who confronted the challenge of World War II and inspired the major societal changes that followed, the new "Green Generation" includes ordinary people engaged in individual and collective activities to improve urgent national and global issues, such as climate change or the world's water crises.
Increasingly, members of the Green Generation will be bound together in a movement that must radically eclipse other monumental changes in social and industrial history.
Collaboration is essential. Organizations like Virgin Unite, the Virgin Group's non-profit foundation , and the Carbon War Room have joined with groups like the Earth Day Network to tackle tough social and environmental problems and to raise awareness in the next generation.
Social innovators like Ashoka organization founder Bill Drayton and Muhammad Yunus who started the concept of micro credit and those working individually like the Goldman Environmental Prize winners are taking new paths in resolving social and environmental problems.
Don't Miss
Why is an entrepreneurial approach needed? Entrepreneurs play a unique role in tackling environmental problems head on because we spot possibilities where others only see obstacles. We convened the Carbon War Room to deliver sustainable market models to increase the effectiveness of climate change efforts underway.
The same unconventional approaches that enabled icons like Steve Jobs and Bill Gates to revolutionize personal computing, or Pierre Omidyar and Jeff Skoll to develop an ingenious online marketplace can help alleviate the tremendous suffering that persists in the world and combat the threats posed by climate change.
We are supporting the 40th anniversary of Earth Day next April. In advance of that event, we think now is a pivotal time for people, businesses and governments to join together to create a global green economy.
Over one billion people including 17,000 partners in 180 countries participate in Earth Day each year, because of their shared sense of responsibility and urgency about the future.
The next revolution will be a sustainable one, moving away from the excesses of the industrial revolution to a new future based on protecting and valuing our natural resources. We have to serve the Earth as well as its people, and come together as we face this, the defining challenge of our time.
The opinions expressed in this commentary are solely those of Richard Branson and Kathleen Rogers.
E-mail to a friend

All About Richard Branson • Environmental Policy • National Association of Entrepreneurs