By Eliot Van Buskirk





(WIRED) -- Barnes & Noble's Kindle competitor may have been the worst-kept secret since balloon boy's disastrous appearance on CNN last week.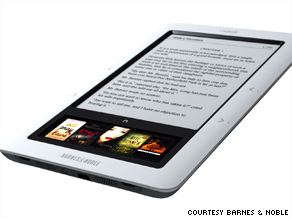 Barnes & Noble has unveiled an e-reader called "Nook," which will sell for $260 in November.
But the advance hype doesn't seem to have hurt the launch of the Nook, an impressive-looking $260 device that will go head-to-head with Amazon.com's Kindle, currently the most successful product in a small but growing market for e-book readers.
Basic details of the Nook were published by the Wall Street Journal on Tuesday following leaked images that appeared on Gizmodo last week. And Barnes & Noble leaked product details hours before reporters filed into Pier 60 in Manhattan for the announcement on Tuesday afternoon.
"Simply following the leader is not in our DNA," said Barnes & Noble president William Lynch.
Indeed, Barnes & Noble's $260 Nook device differs from the Kindle in a number of ways. Most notably, it shares: A feature called LendMe lets users borrow certain books (depending on the publisher's wishes), the same way readers have traditionally traded paper books. The Nook's color touchscreen allows you to navigate titles and enter search terms using a virtual keyboard that goes dark once you're reading.
Don't Miss
The Nook will be available for pre-order starting Tuesday night for $260 at Nook.com, and will ship in November. It has a 6-inch, "paper-like," 16-level grayscale display that supports up to five fonts and various font sizes. It can read a user's PDFs, as well as the 1 million-plus books, magazines and newspapers available in Barnes & Noble's eBook store.
The device connects to the Barnes & Noble eBook store using a free 3G AT&T connection, but lacks a web browser "because those are clumsy" on eReaders, Lynch says. It includes support for the ePub eBook format, FictionWise and PDF, as well as RSS feeds from the internet. However, you can't subscribe to any old RSS feed. Instead, Barnes & Noble selects certain feeds to convert to ePub, then sends them out each morning for a fee that varies by publisher.
Like Amazon's Kindle, Barnes & Noble's Nook lets you highlight and annotate content. But Nook's battery life is 10 days, while the Kindle keeps you reading for 14 -- even though at 11.2 ounces the Nook weighs an ounce more.
Unlike the Kindle, the Nook has a Wi-Fi radio that customers will be able to use at Barnes & Noble's more than 700 physical locations and 600 college stores in 50 states. The current version does not allow connection to Wi-Fi networks outside the stores, but will allow Nook owners to digitally flip through books while they're in a Barnes & Noble store and read free content.
The Nook runs Android OS, which Lynch said "works really well for navigating on this small device." However, at this point, third-party developers cannot develop apps for the device, and no version of the reader for generic Android devices is available.
The device packs enough memory to hold up to 1,500 books (2 GB), with a microSD slot that lets you add up to 16 GB more. In addition to e-books in the three formats mentioned above, the device supports a user's pictures and MP3s (it includes a speaker and headphone jack, but there's no text-to-speech engine). Another nice touch: The virtual bookmark feature called Reading Now lets you pick up where you left off on the Nook or on more than 100 other devices with support for Barnes & Noble's eBook store.
Perhaps the biggest difference between the Nook and the Kindle is cosmetic. The Nook, with color icons, a wide selection of designer cases and color-customizable back panel, looks like a fashionista compared to the more bookish Kindle.
E-mail to a friend

Subscribe to WIRED magazine for less than $1 an issue and get a FREE GIFT! Click here!
Copyright 2009 Wired.com.
All About Barnes & Noble Inc. • Amazon Kindle