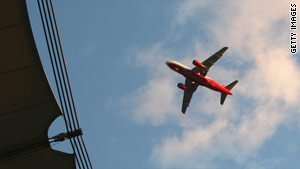 Many members of the aviation community are active on Twitter.
STORY HIGHLIGHTS
On Follow Friday, CNN recommends Twitter feeds on a news topic

This week's topic: Aviation and the wayward Northwest Airlines pilots

A flight attendant writes about daily life; a journalist about in-flight entertainment

A Wall Street Journal editor tweets with the airline passenger in mind
Editor's note: In this new weekly feature, CNN.com highlights five recommended Twitter feeds about a hot topic in the news. Let us know who we missed in the comments section.
(CNN) -- This week's news of the Northwest Airlines pilots who overshot their Minneapolis destination by 150 miles because they were reportedly using laptop computers is only the latest aviation story to captivate audiences.
Whether it's the mysterious June crash of an Air France jet over the Atlantic or January's heroic landing of a US Airways flight in the Hudson River, we're all drawn to stories about air travel.
The blogosphere and networking sites like Twitter are chock-full of people, both insiders and outsiders, talking about flying and air travel.
Here are five of our favorite aviation commentators you can follow on Twitter.
@jetwhine (Rob Mark, pilot, flight instructor, journalist)
Mark's Jet Whine blog won a 2008 Webbie award for what judges called "[b]old opinion on a wide range of aviation topics providing insight into the industry."
His Twitter feed includes a wide range of aviation news postings, insight into how the aviation industry works and back-and-forth discussions with readers that reflects the sometimes chatty world of air professionals.
Followers: More than 1,400
Sample tweet: Jetwhine reader hit nail on the head. "I don't care what the NWA guys say they were doing, they weren't doing what they should have been."
@FAAAviationNews (FAA Aviation News, magazine)
The Twitter account for FAA Aviation News, a bi-monthly magazine of the Federal Aviation Administration, is geared toward noncommercial fliers.
In addition to posting stories from the magazine, editors spark discussions on aviation issues like the Hudson River crash landing and the latest safety equipment available to amateur pilots.
Followers: Almost 1,000
Sample tweet: Just sent proofs back to the printer for the next issue. Can you guess what the theme is?
@MiddleSeat (Scott McCartney, Wall Street Journal editor)
McCartney is the author of "The Wall Street Journal Guide to Power Travel: How to Arrive with Your Dignity, Sanity, and Wallet Intact." In addition to editing the Journal's travel section, he writes the "Middle Seat" column and tweets with the airline passenger in mind.
Followers: More than 2,100
Sample tweet: Has anybody flown out of JetBlue T5 at JFK recently? What did you think? Nice looking restaurants tho I really just wanted Dunkin' Donuts!
@Heather_Poole (Heather Poole, flight attendant)
A professional flight attendant, as noted in her bio: "Yeah, that's me, the one wearing flammable polyester..."
Poole has worked for a major U.S. air carrier for 14 years, mostly commuting from New York to Los Angeles. Her tweets provide a casual, often lighthearted look into the day-to-day life of an airline professional, from describing her many hotel rooms to posting observations on passengers' favorite soda.
Followers: More than 5,800
Sample tweet: Just ordered room service - I deserve it! Working SFO - NY and then walking off plane and reboarding same plane to commute to LA. A killer.
@runwaygirl (Mary Kirby, aviation blogger)
An aviation journalist for the past 10 years, Kirby focuses not just on the overall airline industry but homes in on such topics as in-flight entertainment and the aesthetic appeal of cabin interiors in a conversational way.
Followers: More than 2,400
Sample tweet: With "there is a holiday feeling in the air" banner on top! RT @AirlineReporter: @USAirwaysNews cuts are hard to take.. http://bit.ly/1SzDb