Review: Rock on with 'Brutal Legend'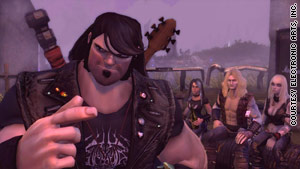 A beefier, virtual Jack Black stars in the heavy metal adventure game "Brutal Legend."
STORY HIGHLIGHTS
"Brutal Legend" stars Jack Black as aging roadie turned magical warrior

The game is from the mind of "Day of the Tentacle" creator Tim Schafer

Rockers Ozzy Osbourne, Rob Halford and Lemmy Kilmister appear

Game combines action brawlers, strategy and racing for full experience
(CNN) -- From the ingenious mind of game designer Tim Schafer ("Day of the Tentacle," "Psychonauts") comes an uber-fun fantasy adventure starring funny man Jack Black as Eddie Riggs, an aging roadie who longs for the glory days of heavy metal music.
"Brutal Legend" begins with a freak stage accident that knocks Riggs unconscious. When his blood drips into his big belt buckle, a gift from his father, he is magically transported to a fantasy world where heavy metal album covers come alive, guitars emit lightning strikes and mountains are made up of piled amps.
Riggs is welcomed as a warrior who can free humanity from the oppressive demonic Emperor Doviculus and his loyal minions (including Gen. Lionwhyte, voiced by Rob Halford of Judas Priest fame). Other rock 'n' roll cameos include voice talent by Lita Ford, Ozzy Osbourne and Motorhead's Lemmy Kilmister.
But the game doesn't just rely on its star power to deliver an extraordinary adventure.
As you play from a third-person view, you'll learn to master your twin-blade axe, ride a custom-built hotrod known as The Deuce and play guitar solos that can melt away an enemy's face or summon creatures to do your bidding. You'll also assign orders to head-banging followers (such as attack, defend or follow), take on huge boss fighters and upgrade your attacks over time.
The world is quite big, and the game lets you explore it in a nonlinear fashion, but if you ever lose sight of your objective, you can simply tap the Select button on the controller to see an overhead map and other information. Some missions, however, are timed, so don't spend too much time checking out the imaginative scenery (including gothic castles, a giant spider's den, a tour bus with horns and lava flowing down volcanoes).
"Brutal Legend" works not just because it delivers a fresh balance of fantasy adventure, humorous dialogue and more than 100 hard rock tunes, but it successfully borrows elements from three distinct genres: action brawlers, real-time strategy games and racing.
"Stage Battles," for example, is a part of the game that focuses heavily on real-time strategy mechanics, where you must capture resources, build your "fan" base (army) and destroy the enemy's headquarters. Riggs even grows wings that let him soar over the battlefield to survey the situation.
This game also offers many optional side missions to extend the single-player campaign, collectible items and unlockable concept art, and even multiplayer modes to indulge in with friends online (pitting three unique armies against one another: Iron Heade, Drowning Doom and Tainted Coil).
Filled with personality and charm, "Brutal Legend" is one of those rare video games that tries something different and succeeds. Kudos to Tim Schafer and his talented team at Double Fine for creating a wild and memorable fantasy romp.