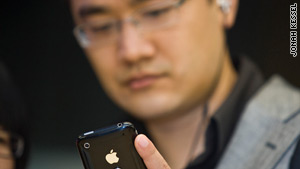 As of November 4, only 5,000 people had bought an iPhone with China Unicom.
STORY HIGHLIGHTS
Since its official launch in China, only 5,000 people have bought an iPhone
Wi-Fi restrictions in China mean that many iPhone services will be diminished
Still seen by many as a status symbol; high price tag and cachet of Apple brand
Analysts doubt many apps will be developed for the iPhone in China
Beijing, China (CNN) -- Now that Apple's iPhone is officially for sale in China, the question is, will the country's 700 million mobile phone users want to buy it?
"Maybe not," said Xiao Kang, a 25-year-old software engineer who braved wind and rain to attend the iPhone launch party last Friday night at the Apple store in Beijing. "It is expensive."
The black, 16-gigabyte iPhone 3GS Xiao was admiring goes for 5,880 yuan ($861) without a service contract, which is more than half of the country's per capita urban disposable income, according to figures from the National Bureau of Statistics.
With a contract plan from China Unicom, the state-owned carrier selling the iPhone, the model goes for 3,999 yuan ($585). Apple and Unicom announced a three-year deal in August to offer the iPhone in China to compete with rivals China Mobile and China Telecom.
Unicom says it hopes to sell five million handsets over the next several years. Yet the telecom company reported on November 4 that only 5,000 had been sold since launch, fueling existing skepticism among analysts that the carrier will not be able to reach its hoped-for target.
"They need to get the price point down on their devices," said Frank Yu, a Beijing-based Chinese social and mobile game analyst.

Video: China iPhone launch
"Usually they do that by having it subsidized, but the China Unicom plan is not subsidized that much, so it is relatively quite expensive."
Price isn't the only challenge facing the iPhone here. The market is already flooded with what some project to be around two million iPhones, some of which are fakes, while others are purchased from unauthorized sellers, smuggled in from Hong Kong and other countries.
Not only are the gray-market iPhones cheaper, but they also contain features, like Wi-Fi Internet service, that are not included with legitimate iPhone handsets.
Wi-Fi has been disabled on Unicom's iPhones to comply with Chinese government rules.
"Apple has already lost all of the early adopters in China who want to have that fancy phone," Yu said. "We have all bought an iPhone."
Yet there is a growing segment of China's emerging middle class that still wants to have a real iPhone because they seen as a status symbol.
"There will always be clones and copycats," Yu told CNN. "But Apple is a brand and a design which is a premium in China and people know it. The iPhone will become like BMW. Not everyone can afford it, but people will aspire to it."
Wi-Fi woes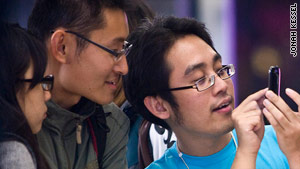 The BMW of mobile phones? Apple still has cachet in China.
However, other potential iPhone customers say they are not as concerned about the device itself as they are with China's mobile phone networks.
"I want just want to make sure China Unicom's wireless connection is reliable and the signal is strong enough before I buy [an iPhone]," said Eric Li, a 28-year-old engineer who attended the iPhone kickoff with his girlfriend. "Data transfer is important."
China Unicom has been rolling out its WCDMA 3G standard since October, yet coverage is still relatively weak. This means the carrier's iPhone users may still have to rely on slower network speeds, further slowing handset adoption rates, said Bo Yiqun, a Beijing-based new media consultant and vice secretary-general at Mobile Internet Great Wall Club.
Unicom may face further challenges luring potential iPhone subscribers from China Mobile, the dominant operator in China. Apple initially tried to strike a deal with China Mobile to sell the iPhone but negotiations fell through when the two companies failed to reach an agreement on revenue sharing.
While the iPhone is not compatible with China Mobile's TD-SCDMA 3G standard, mobile users can still use the handset with a China Mobile SIM card on the carrier's 2G network.
"I don't see a bright future for the iPhone with China Unicom because it is not the strongest mobile carrier in China," Bo said. "It will be hard to attract users from China Mobile."
Tough for apps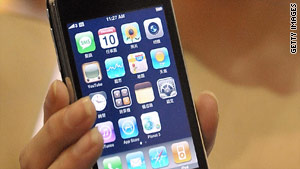 Apps developers are looking outside China and wary of piracy.
And it may also be hard to attract mobile users to Apple's iTunes application store. Apple has launched a Chinese version of its app store, yet many say it lacks applications that are appealing to the local market.
"The success of the iPhone is about the app store," said Leo Wang, founder of Mobile 2.0 forum, a communication platform for telecommunication, mobile and Internet companies.
"Chinese iPhone users will not get what they want from the official App Store."
Nor will they necessarily be willing to pay for mobile phone applications. There are already numerous Web sites in China offering free, and often pirated, software that can be downloaded on a range of handsets, including unlocked iPhones.
"Two dollars is a lot for the average Chinese," said Bo Wang, head of Bokan Technologies, a software product development service provider specializing in iPhone applications.
"If one Chinese downloads an application that can be easily pirated, it is over."
Apple declined to comment on future plans for its Chinese iTunes App Store.
A number of other companies, including carriers like China Mobile and handset vendors such as Nokia, are also launching app stores in China.
Bo believes this will make it even harder for Apple to differentiate its app store from competitors who, in some cases, are more familiar to Chinese consumers.
"We are focused on the global market," said Bo. "That is where the money is and in China, you don't have many iPhones."