 STORY HIGHLIGHTS
DNA testing now used by family researchers
Customers can have their DNA profile included in searchable database
Shepherdson finds large group of previously unknown relatives in S.E. Asia
Members of Chinese, Indian diasporas increasingly tracing roots
(CNN) -- Here's a fun exercise: Compare the DNA profiles of random individuals who reside in different regions of the world, have little in common and don't much resemble one another.
If you could do this, you'd find close DNA matches once in a while.
About three months ago Kevin Shepherdson, a Eurasian in Singapore, discovered that his DNA matches strongly with Thomas Kurowski, a man of Polish descent living in Rhode Island.
The men have never met, and they were unaware of each other.
Both of them research their family history as a hobby, but finding each other through traditional methods (such as sifting through census, marriage or property records) would have been unlikely if not impossible.
And yet their DNA profiles match so closely that they can be certain of sharing a common ancestor within the past six generations. It took scientific sleuthing for the two men to make a connection.
The fact that they discovered each other at all speaks to the increasingly sophisticated tools available to genealogy researchers. These tools are being made available at a time when the hobby's popularity is expanding around the world.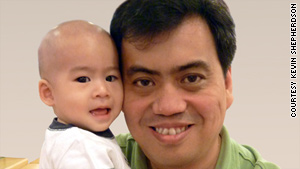 Kevin Shepherdson, with son Daryl, of Singapore discovered he is related to Thomas Kurowski in the United States.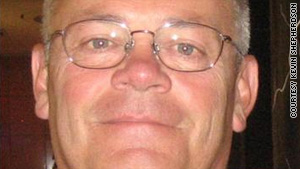 Thomas Kurowski, who lives in the U.S. State of Rhode Island, is of Polish descent and shares Shepherdson's ancestor.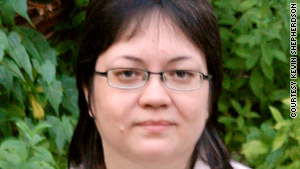 Karen d'Almeida of Singapore is also related to Kevin Shepherdson and Thomas Kurowski.
As a genealogical tool, DNA testing started coming into its own about seven years ago, with more family researchers using it to confirm (or rule out) the results of their traditional research.
To test one's DNA, a kit can be ordered online that includes a few forms and a swab, which is scraped along the inside of the mouth to collect a sample of cells. These are sent to a laboratory, which creates a DNA profile that can be compared against others.
Such services are offered at sites such as Ancestry.com, Oxford Ancestors, Family Tree DNA and many others. Prices vary, but a test can be conducted for about US$100.
Shepherdson has been investigating his roots for about 15 years (see http://www.shepherdson.com). As a result of his efforts, he's now linked with a large group of previously unknown relatives scattered around Southeast Asia, all descended from a pair of English brothers who served as captains in the British East India Company in the late 1700s.
Though Shepherdson's traditional and online research led to the discovery of these relatives, it was the DNA testing -- of himself and a few key individuals -- that confirmed the clan's genetic ties about four years ago.
With all doubts erased, the group meets up for occasional family gatherings. Onlookers at these events might be puzzled sometimes, as many of the relatives look racially different from one another.
But DNA testing can also be used in another way, one less well known but set to increase in frequency and significance.
With many of these DNA testing services, for little or no extra cost, customers can have their DNA profile included in a searchable database that other participants -- from around the world -- can match their own profiles against.
Shepherdson had to wait about four years, but in mid-August he was contacted through a DNA database Internet site by Kurowski, who had discovered the DNA match through his own search.
In such a case, the genetic verification comes first and traditional research follows, which is the opposite order of Shepherdson's previous research.
Now the unlikely cousins will try to figure out how they are related, not whether they truly are. It's a different sort of challenge.
"One of the captains may have laid the family seeds while trading in one of the ports," Shepherdson speculated.
Discoveries like this are set to increase as more people around the world pursue roots research and add their DNA profiles to such databases.
"As the genetic genealogical databases continue to grow in size we should expect to see more and more matches on a local, regional and international basis," noted Lars Mouritsen, chief scientific officer at Sorenson Genomics, a DNA testing firm in the U.S. state of Utah.
Of course, family research has long been popular in places like North America and the United Kingdom. But now it's gaining steam elsewhere, including in Asia.
"The interest is growing, especially in mainland China," said Danny Chin, who manages the Genealogical Society of Utah's Asia operations from a Hong Kong office.
Members of the Chinese diaspora, whether from Singapore, Kuala Lumpur, or San Francisco, are increasingly visiting the mainland to trace their roots, seeking information from clan associations and visiting ancestral shrines and homes.
A similar trend is emerging with the Indian diaspora, said Mr. Chin, though not yet as strongly.
His organization hosts millions of Chinese genealogical records and makes other resources available in its research branches, which can be found throughout Asia and around the world. It's funded by the Church of Jesus Christ of Latter-day Saints -- also known as the Mormon church -- which has a religious mandate to keep genealogical records.
Researchers also turn to the Shanghai Library's vast Chinese genealogical collection, which attracts thousands of visitors every year.
About four years ago in Singapore, the Singapore Family Tree portal was set up by the government to help family researchers. It was one of the first such efforts prompted by a national government.
And in December, Shepherdson plans to publish "The Great Genealogical Search," a how-to book for family researchers in the region that draws lessons from his own experiences.
In it he describes how he tapped a wide array of resources, among them census data, wills, and probate records; DNA testing; Google Books; genealogy-related sites like Rootsweb.com, MyTrees.com, and FamilySearch.org; and social networking tools like Facebook, Twitter, and blogging.
Travel has also played a large role in his research. Aside from visiting the homes of new-found relatives in Malaysia, he has traveled to England to visit the house and seaside town where his ancestors once lived.
That was a thrill, of course, and he has made a number of surprising discoveries on such trips. But after 15 years of research, nothing surprised him more than to be found by Kurowski, a completely unexpected relative living on the east coast of the United States.
In the coming years, more people are likely to encounter similar surprises about their family histories.
"It was hard for us to reconcile the fact that we could be related," Shepherdson said. "I could not believe it."