Apps of the Week: Time to shop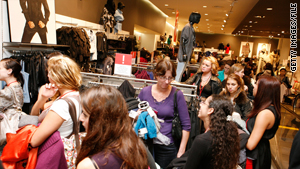 Don't want to fight the crowds at the mall on Black Friday? Consider shopping from your phone.
STORY HIGHLIGHTS
In CNN.com's Apps of the Week feature, we look at shopping applications for smartphones

Amazon.com's app employs phone's camera to help you identify items you may want

Target lets you pull up a wedding registry on your phone as you stroll through the store

Wal-mart's app comes with a tool that uses phone's camera to help you pick right size TV

(CNN) -- With the holiday shopping season upon us, recession-minded retailers such as Target and Wal-Mart have created apps that let people buy products directly from their smartphones.
That's great for when you're on the morning commuter train and itching to cross an item or two off your shopping list. But can any of these applications do much more than simply replicate the online shopping experience?
We tried them out to see. Here's a closer look at three popular retail apps.
Amazon.com Mobile (free; available for the BlackBerry, iPhone and on phones with Android operating systems) -- This app lets people search for products, check prices, read reviews and make purchases as they would online. Returning Amazon.com customers can sign in to see their wish lists, check the status of orders and review recommendations for other purchases based on their buying history.
Pros: A new experimental feature, Amazon Remembers, employs your phone's camera to help you identify items you may want to buy. You take a picture of the item and send it to Amazon, which tries to identify the product and then check its inventory to see whether it's in stock. I tried this feature out by snapping a photo of my Nike running shoes; within five minutes, Amazon had sent me an e-mail with information on a similar (but not identical) pair that was available in my size.
Cons: The home page doesn't have space to showcase new or popular items (except for the Kindle e-reader), so you can't browse as easily as you can online. And a search for "books" pulled up not the expected best-sellers but kids' books and others with the word "book" in the title.
Target (free; iPhone and iPod Touch only) -- Aside from the expected features -- product searches, price checks, guest reviews, etc. -- this app offers a Weekly Ad with discounts (Susan Boyle's new CD, only $9.98!) on a variety of stuff. The browsing feature lets you scroll through items by sales rank or popularity with reviewers. Prefer to visit an actual store? The phone's GPS function will find the one closest to you and display its location in Google Maps.
Pros: Let's say you're in a Target and want to finally get that wedding gift for your co-worker who got married six months ago. You can pull up his or her registry on your phone and scroll through it as you stroll through the store.
Cons: A few searches, at least in my experience on Tuesday afternoon, pulled up error messages instead of results.
Wal-mart (free; iPhone and iPod Touch only) -- The first thing you see on this app's home page is a picture of Santa and the words, "only 30 days left!" The next thing is "Find Electronics," which gives you an idea of where Wal-mart's mobile priorities are this season. In fact, electronics are pretty much all you'll find here. A search for "toys" pulled up only five items, two of them packs of batteries and none of them toys.
Pros: The consumer-electronics search function is smooth and intuitive. If you find a TV or a computer you're interested in buying, you can click on an "Ask My Friends" button that polls your pals, via e-mail or a Facebook post, for advice about it.
Cons: Unsure about what size TV to buy? The app comes with a TV-sizing tool that uses the phone's camera. Snap a picture of the space in your home where you want to put the TV, and your distance from that space when you took the photo, and the app will estimate how big a TV you need. It sounds kind of cool, except that the process is confusing -- for example, do you want your TV to fill the entire space, or just part of it? For anyone with a tape measure, it's also pretty unnecessary.