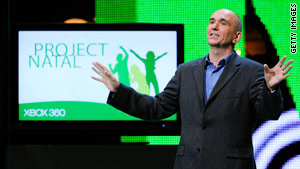 In June, Microsoft took E3 by storm with the formal unveiling of its futuristic controller system, Project Natal.
STORY HIGHLIGHTS
Video games sales roared long after recession hit, then crashed abruptly

Theory that video games are recession-proof dissolved

Beatles: Rock Band and PS3 Slim were highlights of the year
(CNET) -- In January, sales were up 13 percent over the year before, reported industry analyst the NPD Group, and that trend continued in February, with a 10 percent boost over 2008.
The argument for why video games could be doing so well while jobs were disappearing by the six-figures? The long-bandied-about theory is that entertainment offers people a great value for their money, particularly when they can get dozens of hours of fun for the whole family for just the $60 it costs for a game like Madden 10.
But by March, all that momentum was gone and sales were through the floor, losing 17 percent over the year before.
That soon became the trend as the numbers kept on going down, month after month after month. The theory that video games were recession-proof dissolved with the revenue figures.
But not all was bad. Even as the industry in aggregate was seeing the bottom line results of the recession, individual games and companies were smiling broadly at either immediate successes or future promise.
For example, in March at the Game Developers Conference in San Francisco, WebTV founder Steve Perlman and former Eidos CEO Mike McGarvey unveiled OnLive, a promising technology that could turn the industry on its ear by streaming first-run, console-quality games from top-tier publishers over the Internet.
Then in June, Microsoft took E3, the video game industry's giant Los Angeles trade show, by storm with the formal unveiling of its futuristic hands-free motion-sensitive controller system, Project Natal.
Primed to change the way gamers -- and others -- interact with their consoles, or computers, the technology was the hit of the show. It's not known for sure when it will be released or how, but rumors have it that it will cost around $50 and hit store shelves late in 2010.
Also a big hit at E3, where it was seen for the first time, was Beatles: Rock Band. That game, something that would have been impossible only a couple of years ago, even got Paul McCartney, Ringo Starr, and Yoko Ono to show up at Microsoft's E3 press conference.
If that was an unlikely event, it may have been only one notch less probable that what happened in September, when the PS3 at long last won a monthly sales crown, beating out the Xbox and the Wii in NPD's monthly sales report for the first time in the console's three-year run.
But that was surely because of the August release of the PS3 Slim, a smaller -- and more importantly, a cheaper, version of the console. For the first time, a PS3 could be had for less than $300 -- well, OK, it was $299 -- and things began to look up for Sony's beleaguered machine.
But Nintendo also got into the price-slashing game in 2009, cutting the Wii's sticker to $199 after being $249 since launch in 2006. And after a 2008 holiday season in which no one could find a Wii, the supply finally matched demand in March. By fall, the Wii had retaken its top sales spot and was expected to maintain it through the holidays.
Another bright spot was the record-shattering sales of Activision's Call of Duty: Modern Warfare 2, which became the fastest-selling piece of entertainment in history in November, racking up sales of more than $310 million on its first day alone.
Clearly, notwithstanding great news like that, there's trouble in the industry: thousands of layoffs, tumbling sales, studios closing, and a sense that if the holiday doesn't do gangbuster business there's going to be a bloodbath. In that, video games may not be unlike other industries.
But given how rosy each of the major hardware companies keep saying things are, one could be forgiven for getting confused by the reality.
© 2010 CBS Interactive Inc. All rights reserved. CNET, CNET.com and the CNET logo are registered trademarks of CBS Interactive Inc. Used by permission.