By Greg Sandoval






(CNET) -- Apple has obtained the rights to offer ready-made ringtones for the iPhone and managers are trying to have them available in time for next week's press conference, music industry sources told CNET News.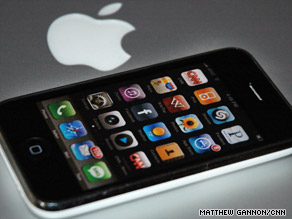 Ringtones have offered music labels and retailers better profit margins than full song downloads.
Owners of Apple's iPhone have long had the ability to create custom-made ringtones for their devices. The new music snippets are mainly a convenience, as they make it possible for iPhone owners to obtain a pre-cut ringtone instead of having to create their own.
Apple will announce the ringtones on September 9, the day the company has scheduled a press event, if managers can get them ready in time to sell, the sources said. An Apple spokesman declined to comment.
At the event, Apple is expected to roll out a new digital album cover codenamed Cocktail. There are also persistent rumors that upgraded iPods will also debut.
That Apple has scheduled the event for a Wednesday, instead of the company's preference to make announcements on Tuesdays, there is speculation that there could finally be an announcement that a Beatles catalog is coming to iTunes. September 9 is also the day the Beatles' remastered digital albums and Rock Band video game will be released.
As for ringtones, they have been a boon to the music industry. In the past, consumers have shown a willingness to pay as much as $3 to hear a few seconds of a favorite song when receiving an incoming call.
For that reason, ringtones have offered music labels and retailers better profit margins than full song downloads, which typically sell for between 79 cents and $1.29. My sources didn't know what Apple will sell the ringtones but said they expected them to go for far less than $3.
Whatever price Apple chooses, there are those that say the ringtone craze is in decline. SNL Kagan, a research firm, issued a report earlier this month that said ringtone sales dropped from $714 million in 2007 to $541 million in 2008, or 24 percent.
That was the first time mobile music registered overall sales decline, according to Kagan. Part of the reason for the drop off, according to the research firm was that consumers have learned to create their own ringtones out of downloads.
Sites such as Makeownringtone.com allow users to upload a song in MP3, WMA or other formats, choose the section of song they want, remix their music selection, and upload the finished product to their phones.
E-mail to a friend

© 2009 CBS Interactive Inc. All rights reserved. CNET, CNET.com and the CNET logo are registered trademarks of CBS Interactive Inc. Used by permission.
All About Music • Apple Inc.