(CNN) -- The frantic hunt for the right cell-phone charger will soon be a thing of the past -- in Europe at least -- as major manufacturers on Monday agreed to introduce a universal adaptor within six months.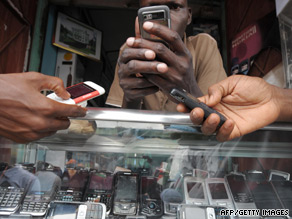 Most cell phones currently rely on different chargers, causing mountains of waste electronic.
Industry leaders, including Apple, Motorola, Nokia, Samsung and Sony Ericsson, have struck a deal with the European Union to introduce the one-size-fits-all charger by January 1, 2010, offering a solution to one of modern life's chief frustrations.
As the number of cell phones has exploded over the past few years, so have the number of chargers -- generating mountains of waste technology as users change or upgrade handsets.
Now the cell phone industry has agreed to standardize its chargers, making all handsets compatible with a micro-USB plug already standard on handsets such BlackBerrys.
Last year an estimated 1.2 billion cell phones were sold worldwide, according to University of Southern Queensland data reported by industry umbrella group GSMA (Groupe Speciale Mobile Association), generating up to 82,000 tonnes of chargers.
With concerns over the level of waste generated by redundant or outmoded chargers, European legislators had, prior to Monday's agreement, considered forcing manufacturers to adopt universal technology.
"I am very pleased that industry has found an agreement which will make life much simpler for consumers," Gunter Verheugen, vice-president of the EU's executive arm, the European Commission, said in a statement.
"This also means considerably less electronic waste, because people will no longer have to throw away chargers when buying new phones."
With the Europe-wide agreement in place, the rest of the world is unlikely to lag behind.
GSMA, which represents 750 of the world's cell-phone operators, has already pledged a January 2012 deadline for introducing a universal charger.
E-mail to a friend