LONDON, England (CNN) -- Researchers have found a way to prompt bone marrow to release a flood of certain stem cells which could help heart attack patients recover faster.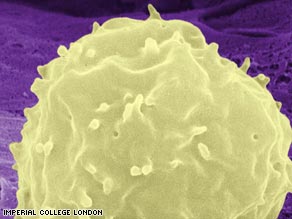 Researchers are yet to prove whether greater numbers of certain stem cells in the blood will aid recovery from injury.
The technique could also be adapted to speed up the repair of broken bones and to treat patients suffering autoimmune diseases including rheumatoid arthritis.
The discovery was made by scientists at Imperial College London led by Dr Sara Rankin who were looking for a way to release endothelial progenitor cells into the body, the cells that make blood vessels.
In the process, they stumbled on a second discovery, a way to release large number of mesenchymal stem cells, which work to suppress the immune system.
"We were trying to release one of these populations and we managed to release two," Dr Sara Rankin told CNN. "That was quite unexpected but it makes sense to us because both of those are known to play a role in tissue repair."
"This is very exciting because it suggests that there could be new therapies to treat damaged tissue. By giving people drugs we could release these stem cells from the bone marrow into the bloodstream and flooding the bloodstream with stem cells that are very capable of repairing tissues. So we can effectively enhance our natural ability to repair ourselves."
Until now, the ability to boost production of a single type of stem cells has been limited to hematopoietic stem cells, which create new blood cells.
Vital Signs
Each month CNN's Dr. Sanjay Gupta brings viewers health stories from around the world.


Doctors routinely boost the production of hematopoietic stem cells in patients suffering various forms of Lymphona so the new blood cells can harvested and transplanted back into the patients once the cancer has been eradicated.
Production of hematopoietic stem cells is boosted by injecting the patient with a naturally occurring protein called G-CSF, followed by a drug designed to mobilize the cells to the bloodstream.
The team at Imperial College London injected mice with a different form of protein called VEGF, then Mozobil, a new drug approved by the Federal Drug Administration for sale in the U.S. in December.
The bone marrow of those mice released about 100 times as many endothelial and mesenchymal stem cells as the mice that received no treatment at all.
"It's the selectivity which is exciting; the fact that we can selectively get these cells out of the bone marrow without releasing the other types of stem cells that are much more frequent, and also without releasing any inflammatory cells," said Rankin.
While the study's findings represent a leap forward in the way injuries may be treated in the future, Rankin stresses that more work is needed to prove that extra stem cells in the bloodstream will in fact speed up the recovery of tissue.
"We now want to provide proof of concept that by flooding the blood with stem cells you would enhance or accelerate the repair of damaged tissue."
Don't Miss
Paul Fairchild, director of the Oxford Stem Cell Institute at the James Martin 21st Century School praised the findings as an "enormous step forward" but expressed concern about whether the results could be replicated in humans.
"This is of course just a proof of principle study in a mouse and of course we know that transition from mouse to man is never a simple one."
He also questioned whether the presence of extra stem cells in the blood alone could improve recovery times.
"Mobilizing those stem cells is an enormously important first step, but it's only a first step."
"It's expecting an enormous amount for those stem cells to then find their way into a lesion, then to differentiate properly into the cell type that's required, to become integrated functionally and to survive in an area which has very low oxygen tension because there's little angiogenesis going on."
"It's a very important step forward and I don't want to undermine that in the slightest, but it is just a first step of a long journey."
Rankin says early evidence suggests that the stem cells will be able to locate the sites of injury but research is underway to establish whether that is the case.
If it's proved that the extra cells can locate the injury and then boost tissue recovery time, it's hoped clinical trials on humans could be conducted within ten years.
E-mail to a friend