By Doug Gross
CNN





(CNN) -- With the exception of that come-from-behind win over an overconfident hare, turtles and racing have never really been a very good match.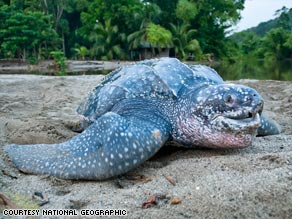 Leatherback tortoises can grow to weigh more than 2,000 pounds.
But with the help of some high-tech tracking devices, a fan-friendly Web site and a little star power, conservation officials are hoping a contest among 11 leatherback tortoises will raise awareness, and some money, for the critically endangered species.
The Great Turtle Race, in which the turtles paddle 3,700 miles from their feeding grounds off the coast of Nova Scotia to the Caribbean -- where they breed and nest -- begins Thursday.
It's a trek that would only qualify as a sprint by the very relaxed standards of turtles that can grow bigger than 2,000 pounds.
The two-week online race is actually a simulation of a journey the turtles have already made -- taking between 4½ and six months.
"What we're hoping to do these next two weeks is have as many people as we possibly can come to the Web site, get involved in the race and have some fun with it," said Rod Mast, vice president of Conservation International, which is sponsoring the race along with National Geographic and the Canadian Sea Turtle Network.
The largest turtles on Earth, leatherbacks once were plentiful in every ocean but the Arctic and Antarctic. While their population in the Atlantic Ocean is believed to be stable, other populations, including those in the Pacific, are dwindling dramatically.
Threats to the leatherbacks include accidental capture by fishing boats and development on beaches where they nest. They feed almost exclusively on jellyfish, and many have accidentally swallowed plastic bags dumped into the ocean, Mast said.
Enter the satellite tracking devices, which scientists are using to try to make the turtles' migration safer.
"The tracking devices provide very important information -- to protect the turtles you have to know where they are and when they are there," Mast said. "But the technology is expensive."
That's where the Great Turtle Race comes in. While raising awareness, the race lets companies, schools and celebrities pay to sponsor one of the reptilian racers.
This year, rock bands R.E.M. and Pearl Jam have both sponsored a turtle. (One of the turtles mentioned on the Web site, http://animals.nationalgeographic.com/animals/article/greatturtlerace.html, is named Nightswimmer -- presumably a reference to R.E.M.'s song "Nightswimming.")
Olympic swimmers, including gold medallists Janet Evans, Jason Lezak and Eric Shanteau, will act as "coaches" for the contestants and Olympian-turned-analyst Rowdy Gaines will be calling the race on the Web site.
Gaines and Pearl Jam guitarist Stone Gossard will be among the participants in a Wednesday teleconference to kick off the contest -- during which the celebrities will be blogging on the site.
Organizers say they're open to at least one more last-minute addition.
In the 2007 race, a plucky competitor named Stephanie Colburtle by student researchers caught the attention of her namesake -- Comedy Central talk-show host and shameless self-promoter Stephen Colbert.
Colbert, whose tongue-in-cheek public-relations coups have included having a Virgin America airplane and a flavor of Ben and Jerry's ice cream named after him, followed the exploits of his "adopted daughter" on his nightly show.
This year, perhaps not coincidentally, there is an unsponsored turtle named Esteban -- the Spanish version of Stephen.
"If he decided to join in late, we've got a turtle with his name -- almost," Mast said.
E-mail to a friend

All About Endangered Species