(CNN) -- A team of scientists from Canada, Spain and the United States has identified a key gene that allows plants to defend themselves against environmental stresses like drought, freezing and heat.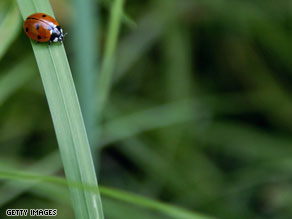 If a plant's stress gene can be identified it could help crops cope with climate change.
"Plants have stress hormones that they produce naturally and that signal adverse conditions and help them adapt," Peter McCourt, a professor of cell and systems biology at the University of Toronto said in a press release.
"If we can control these hormones we should be able to protect crops from adverse environmental conditions which is very important in this day and age of global climate change."
The research team, led by Sean Cutler of the University of California, Riverside, claim to have identified the receptor of the key hormone in stress protection called abscisic acid (ABA). Under stress, plants increase their ABA levels, which help them survive a drought, although the process not fully understood by scientists.
The area of ABA receptors is a controversial topic in the field of plant biology that has involved retractions of scientific papers as well as the publication of papers of questionable significance.
Don't Miss
"Scientists have been trying to solve the ABA receptor problem for more than 20 years, and claims for ABA receptors are not easily received by the scientific community," said Cutler in a press statement.
The research team used a new approach called chemical genomics to identify a synthetic chemical, called pyrabactin, which activated an ABA receptor in laboratory's test plant. The team claims this led them to directly identify the ABA receptor.
"This approach not only found a gene that had been long sought by the plant science research community but also showed that chemical genomics can identify new chemicals that may have profound impacts on the way we farm in both the developing and developed world," said McCourt.
E-mail to a friend