By Matt Ford
For CNN





(CNN) -- If we don't know our history, then we can't know our future. Historians arguing the relevance of their subject often repeat that mantra.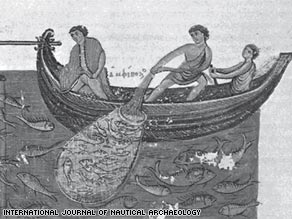 A Byzantine image from the 11th century shows night fishing with a lamp and a net.
But one group of researchers is showing how true it is. Members of the History of Marine Animals Project (HMAP) believe that scrutinizing the minutiae of historical documents is the key to protecting our oceans for generations to come.
Our seas and oceans face a series of major threats, including climate change and over-fishing.
But the HMAP is using the evidence of documents such as centuries old tax records and sailor's logs to explore how they have changed - and find the information that will help us understand and protect our oceans for the future. Only by appreciating long-term processes, they argue, can we hope to understand our impact.
The project has united academics across a range of disciplines from archaeology to paleontology, and 400 of them met last week at the University of British Columbia, Vancouver, Canada, to discuss their research.
The scale of humanity's impact has shocked them.
"I was surprised by the magnitude of the depletion of species and its universality around the globe," Dr. Andrew Rosenberg, an HMAP project leader told CNN.
"The extent of it was really quite dramatic. We've fundamentally changed ecosystems without realizing that was possible."
Fellow HMAP project leader Dr. Poul Holm agreed: "The basic message from the research is that the losses in productivity for the big fisheries was much greater than we anticipated."
HMAP research has revealed a picture of a remarkable wealth of life in the seas as recently as 200 years ago, which has now largely been lost.
Before whaling began in the waters to the south of New Zealand around 1800, the population of whales was roughly 30 times higher than today. In the 17th century the waters around southwest England were home to blue whales, as well as large numbers of porpoise, dolphins, and blue and thresher sharks.
Around the world the inshore regions of our seas are estimated to have on average held 10 times the amount of life two or three hundred years ago than they do today.
Repairing the massive damage we have inflicted on these ecosystems is crucially important for humanity and not only the well-being of ocean creatures, argues Dr. Holm.
"Marine biodiversity is a matter of life and death to us," he said. "The diversity of life in the ocean provides food and pharmaceuticals for us humans, healthy nearshore habitats provide coastal protection against storms, and the ocean regulates climate.
"Without ocean biodiversity, life on planet earth would not be possible. For every species we take out, we lose a piece of our own life support."
But despite the scale of species extinction and exhausted fisheries that HMAP has highlighted, the project has also found cause for hope.
"One of the most remarkable things we've discovered is the system's ability to recover," said Dr. Rosenberg. "Where we have evidence for depleted areas being better managed, it seems they will bounce back."
Dr. Holm believes that moratoria on fisheries are effective ways to help fish stocks recover.
"This is well illustrated by the rich harvests of fishermen after the Second World War and the rebuilding of North Sea herring stocks after the decline of the 1970s," said Holm.
"Longer-lived species such as whales and large fish may take a long time to recover, but the remarkable return of the Pacific right whale after near-extinction gives reason for optimism. They were down to probably no more than 25 females in the 1920s after a historical population of 27,000 individuals. They currently number around a couple of thousand -- still dangerously few but the population is certainly regaining health."
The researchers also insist that effective conservation of fish stocks could even increase the amount of fish we can take from the seas.
"It's important that we don't get caught up with trying to turn the clock back 300 years," said Dr. Rosenberg.
"We should be thinking about the possibilities for production, because this isn't an issue just for ecologists: This is about food security. The seas are one of the most important sources of high quality protein there is, and that's very important to us all. What we've learned is that less really is more. You can catch more fish by fishing less hard."
Dr. Rosenberg argues that because historically the amount of fish in the sea was much higher, so the catches were also higher. HMAP research has shown that catches of cod in the Gulf of Maine, New England, during the 1860's were 70,000 metric tonnes per year. Now the stocks are only around 3000 tonnes.
The key is managing the resource sustainably.
"We want to bring to the policy debate the fact that the sea can be much more productive than it is, they can recover, and that production is just as important as biodiversity," said Dr. Rosenberg.
"The Mediterranean is a good example. Now, it is very, very depleted, and we have lost many, many species. What we have now is small catches of small fish. But it could be so much more, if we allow it to recover and control our impacts.
"That's difficult, of course -- because we're talking about controlling human greed. But the Mediterranean Sea is surrounded by some of the most developed nations on Earth. Are we really saying that we can't control human impacts? It's ridiculous."
One of the major problems ,according to Dr. Rosenberg, is that, unlike some other environmental issues, many people have been slow to engage with marine conservation, and that has had an impact on policy.
"The only people speaking up are the fishing lobby," he said. "Naturally, democratically elected governments are responding to those who are speaking out. But the oceans are owned by everyone -- not just those who fish -- and government has an obligation to look after them for us all."
The HMAP hopes that its research will engage the public in a new way. "People like their history," said Dr. Rosenberg.
"We all know that our planet is a small and vulnerable place," said Dr. Holm.

"Concerns are growing about the environment and climate and these are issues on the political agenda. Citizens around the world realize that short-term concerns may imperil their long-term interests. The current banking crisis opened the eyes of many for the need of good global governance. We have a window of opportunity to set the agenda for better management."
"I just want people to realize what is possible," said Dr. Rosenberg.
E-mail to a friend