By Bonnie Schneider
CNN





(CNN) -- Today's not only the first of the month or the start of the summer season meteorologically: It's the first day of hurricane season 2009.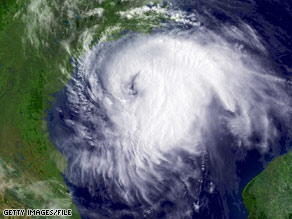 Last season's biggest storm, Hurricane Ike, bears down on Texas in September.
On this day, forecasters often begin speculating about when the season's first storm will form in the Atlantic. There's no need to wonder about that this year, because there's already been a tropical depression -- before the official season even began.
On Thursday, Tropical Depression One formed in the Atlantic about 310 miles south of Providence, Rhode Island, with maximum winds of 35 mph. The depression sustained its intensity Thursday as it sat over the warm waters of the Gulf Stream and faced relatively low wind shear.
Tropical Depression One then drifted over cooler ocean waters and turned out to be merely a "fish storm," one that remains at sea and poses no threat to land. But is this preseason storm an indication of a busy hurricane season to come?
The short answer is no, according to hurricane specialist Robbie Berg of the National Hurricane Center in Miami, Florida.
"A flurry of activity in late May or early June is not a sign of what's to come," Berg said.
He said he believes Tropical Depression One likely formed from an old frontal boundary that pushed east off the United States at a high latitude of 37.3 degrees north, not in the deep tropics.
'09 STORM NAMES
Approved hurricane names for 2009:

Ana
Bill
Claudette
Danny
Erika
Fred
Grace
Henri
Ida
Joaquin
Kate
Larry
Mindy
Nicholas
Odette
Peter
Rose
Sam
Teresa
Victor
Wanda

Source: National Hurricane Center



Berg said the area to watch early in the season is off Africa, where tropical waves form at much lower latitudes than the birthplace of Tropical Depression One. He said vigorous thunderstorm activity in that region early in the season would be one predictor, although not the sole indicator, of a busy season ahead.

History shows, though, that what occurs early in the season sometimes does match what happens later on. For example, 2008 was an active season with 16 named storms and eight hurricanes, five of those classified as major at Category 3 or higher.

Hurricanes 101: Deadly storms are explained »
And, like this year, 2008's season got off to an early start. Tropical Storm Arthur formed near the coast of Belize on May 31 last year -- one day before the hurricane season began. The storm was devastating for Belize, causing millions of dollars in damage.
But history also shows that a slow start to hurricane season does not mean U.S. coastal residents can relax. The 1992 hurricane season got off to a slow start. Things were quiet throughout May. Two brief tropical depressions formed in June and July. There was nothing in early August. And then everything changed.
In mid-August 1992, satellites detected a strong wave off the coast of Africa. The thunderstorms grew larger and began to spiral, upgrading the wave to a tropical depression. One day later, the season's first named storm was born. Its name was Andrew.
Andrew intensified into one of the strongest Category 5 hurricanes in history, with winds at one point exploding to 160 mph. The destructive force of Hurricane Andrew's winds ravaged Florida, causing more than $26 billion in damage.
For 2009, the National Oceanic and Atmospheric Administration and researchers at Colorado State University are predicting a "near average" season. But don't let the term "near average" equate to "not so bad."
An average season brings about four to seven hurricanes, some possibly being major storms of Category 3 or greater. By that reckoning, at least one hurricane this year could contain winds of 111 mph or more and could create a storm surge of more than 9 feet.

Read about the 1900 storm that wiped out Galveston, Texas »
So while it's impossible to know whether your community will be affected by a hurricane this year, it is possible to prepare -- just in case. Stay alert to advisories from the National Hurricane Center and have a disaster plan for you and your family in place.
As Berg, the hurricane specialist, said: "It only takes one."
With that in mind, here are some commonly asked hurricane questions:
Where can I get more information on how to make a "hurricane plan" for my family?
The Federal Emergency Management Agency's Web site has tips on what to do before a hurricane.
Where do hurricane names come from?

The World Meteorological Organization selects hurricane names. The names alternate between male and female and are derived from the languages that people speak in a particular part of the world. For the Atlantic, Caribbean Sea and Gulf of Mexico, the names come from English, French, Spanish and Dutch.
The cycle of names repeats every six years, except for when a hurricane is extraordinarily costly or deadly. Then the name is "retired" and not used again.
E-mail to a friend

All About Hurricanes and Cyclones