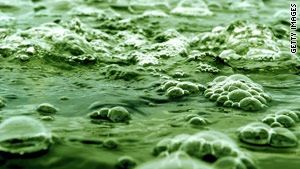 Algae as biomass for biofuel are become more attractive to investors and developers.
STORY HIGHLIGHTS
World's largest oil company announces up to $600M investment in algae biofuels

Teaming up with genomics pioneer Craig Venter's biotech company

Part of trend in research away from first generation crop-based biofuels

Friends of the Earth spokesperson calls announcement "eyebrow raising"

(CNN) -- ExxonMobil is teaming up with the biotech research company run by genomics pioneer Craig Venter to produce algae-based biofuels.
The world's second largest company announced on Tuesday that it will invest at least $300 million in biotechnology research with Venter's Synthetic Genomics Inc to help develop biofuels made from algae, as it looks to diversify its energy portfolio.
"We believe that biofuel produced by algae could be a meaningful part of the solution in the future if our efforts result in an economically viable, low net-carbon emission transportation fuel," said Dr. Emil Jacobs, vice president of research and development at ExxonMobil Research and Engineering in a press statement.
The total amount of investment over an unspecified period of years could total $600 million. ExxonMobil is looking toward algae-derived biofuel as part of its "ongoing efforts to reduce emissions in our operations and by consumers of our products, through both efficiency improvements and technology breakthroughs," said Michael Dolan, senior vice president of the company.
The biofuel industry is currently facing a shift from first-generation biofuels to so-called advanced biofuels as evidence mounts that corn-based ethanol and soybean biodiesel are not as ecologically, socially or economically sustainable as many first thought.
Many analysts blamed a large part of the food price hikes around the world in 2008 on the increase in crops and arable land being diverted to produce ethanol for biofuels.
"The real challenge to creating a viable next-generation biofuel is the ability to produce it in large volumes which will require significant advances in both science and engineering," said Venter, CEO of SGI in a press statement.
He hailed the agreement with ExxonMobil as bringing together "complementary capabilities and expertise ... that could lead to the large scale production of biofuel from algae."
Algae have been touted as a better organic material for producing biofuel by many researchers and entrepreneurs. It does not take up any arable land and can be grown in controlled conditions; at a basic level algae only needs water, sunlight, carbon dioxide and some nutrients to grow. Algae also photosynthesize to double its size in about a day.
Nevertheless, critics have questioned whether enough biomass can be produced on an industrial scale to meet future fuel demands.
The ExxonMobil announcement "eyebrow raising," said Gillian Madill of Friends of the Earth, who voiced skepticism about the company's commitment to non-polluting sources of energy.
However, it is part of a recognized trend for large oil companies to invest in synthetic biology for the development of biofuels; in 2007 BP invested $500 million over 10 years in biofuel research and other energy companies including Shell have followed suit.
"Will [ExxonMobil] spend the same amount of money advertising this investment as the investment itself? Are they investing in any truly 'green' technology such as wind or solar? The jury is out," Madill told CNN.
"Biofuels, if anything, are a short-term way to transition us from using fossil fuels to more long-term, truly sustainable sources of energy like wind and solar power.
"Many of these oil companies are making steep investments in synthetic biology because they can literally own the very microorganisms that aim to produce fuel because of the current patentability of DNA. If synthetic biology proves successful, 'Big Oil' will not only own the fuel itself, but own the very life form that produces it," Madill said.