By Cameron Dueck
For CNN





Cameron Dueck will be reporting regularly for CNN on his team's sailing expedition through the Northwest Passage and how climate change is affecting the region
Cambridge Bay, CANADA (CNN) -- Climate change has taken a short break in the Arctic this summer, leaving Silent Sound to sail through some heavy ice as we steer her for home before winter sets in.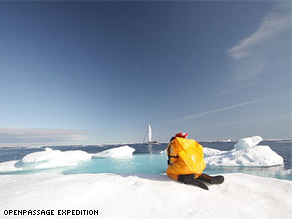 This year hasn't seen the 'big melt' that many predicted at the beginning of the season.
Early predictions that 2009 would be another big melt are being proven wrong. Ice conditions have been heavier this summer than they were in 2007 and 2008.
Along with a slower melt, the disappearance of large amounts of first year ice in seasons past makes it easier for older ice to move south, clogging up the straits and waterways that make up the Northwest Passage.
We have just left Cambridge Bay, which marks the halfway point for our expedition. We have sailed some 4,700 nautical miles, and we have more than 4,000 left to go. But the second half promises to be tougher than the first as heavy ice blocks our progress in Victoria Strait and Franklin Strait.
Silent Sound is now entering the treacherous waters that stopped so many European explorers in the past. We are nearing King William Island, where on Victory Point in 1845 Sir John Franklin's men left their last note in a cairn before stumbling on through the snow, eventually succumbing to cannibalism and a cold and miserable death.
We sail in the same waters but in a very different time. Our greatest concern in the past several days has been trouble charging our batteries, which makes it hard to use our laptops and GPS charting systems. In comparison, those that discovered these waters were often hopelessly lost and dying of scurvy.
The crew of Silent Sound have been reflecting on those differences in recent weeks as we've dropped anchor in increasingly remote communities and marveled at how past traditions and the reality of 21st century life come together.
Online social communities and are a huge hit, and we've seen grandmothers put down the traditional skin clothing they are sewing to have an online video chat with their grandchildren thousands of miles away. Yet, we have also been struck by how the land and its wildlife permeate all aspects of life.
Hunting still rules the calendar for many people here, and we've benefited from their success as we've left every port with a fridge full of game. Those that do hold regular 9-to-5 jobs drop their work and pick up their rifles when the summer beluga migration begins or they spot a herd of caribou.
While the hunters we've met report more ice this year than in the last two years, they also point to worrying signs of the impact of climate change. Hunters from Alaska to Nunavut tell us they see changes in the land and new species in the water as the climate warms.
"We've got beaver right here in the harbor, on the ocean side. You'd never have thought to see beaver here, but we have them, I've seen them," said Roy Cockney, a hunter in Tuktoyaktuk.

He and others in Tuktoyaktuk have also told us about the increase in mussels in the water. "We maybe had a few in the bay here before, but not like this. This year there's lots and lots. Maybe the water is warmer, who knows. "
We are not the first to rely on the Inuit for fresh meat, but while early explorers left with their holds full of furs and lands claimed for their king, we leave each port with new Facebook friends and a better understanding of how climate change and modern conveniences are changing the face of Inuit culture.
E-mail to a friend