By Matt Ford
For CNN





(CNN) -- Much has been made of the problem of livestock emissions of methane -- a far more potent greenhouse gas than CO2 -- but a solution might be just around the corner.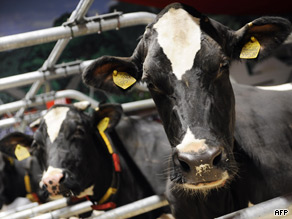 Room here for both of us? If better cows' diets mean less harmful methane is emitted, beef could stay on the menu.
"I really think it's a solvable problem," Professor Jamie Newbold of the Animal and Microbial Sciences Division, Aberystwyth University, Wales, told CNN.
"It is technically solvable. A rare good news story when it comes to climate change. While there is no magic bullet, and no one solution that will work for all animals, we are getting there."
The problem occurs because as livestock digest their food they produce methane gas as a by-product; around 250 to 500 liters a day according to a Washington State University study.
Estimates of the proportion of man-made greenhouse gases that now come from livestock vary, from around five percent, up to 18 percent, depending on the parameters of the study.
But whatever the percentage there is no doubting methane's potency: it warms the Earth around 20 times quicker than CO2.
Clearly something needs to be done.
Livestock farming already occupies 30 percent of the world's surface and its environmental impact will double by 2050 unless drastic action is taken, according to a recent United Nations survey.
Don't Miss
Until now the option getting most attention was changing our lifestyles. Giving up meat, or at least eating less, is one of the things many environmentalists believe we will need to do to create a sustainable future, along with trading in the SUV and turning down the heating.
Meat might not have got a mention in "An Inconvenient Truth", but campaigners People for the Ethical Treatment of Animals (PETA) responded to the film by challenging Al Gore to go vegan.
But Mr. Gore may be able to enjoy the odd burger for a while longer, as a range of new dietary additives is promising to dramatically cut methane emissions from livestock.
It's still early days but already results from around the world have been encouraging. What's more, it seems that using the additives actually has a cost benefit to farmers in terms of improved nutrition and higher yields.
Broadly speaking the additives either fortify feed with tannins, which are bitter compounds found in many plants and seem to work to limit methane production. Or they use oil, which is easily digested, and seems to have a similar effect.
"Mootral", a garlic-based additive that inhibits methane-causing bacteria made the shortlist of the Financial Times' Climate Change Challenge in 2009, and is already being produced on a commercial scale by Neem Biotech.

Watch how garlic is being used to curtail burping cows »
"Methane emissions are in fact a loss of energy to the animal and that has a cost to the farmer," says Professor Newbold.
Therefore cutting methane means a more efficient -- and more profitable -- farm.
"The industry is very good at taking up new technological solutions when they increase productivity," added Professor Newbold.
"Of course there are regulation issues with anything to do with food, but once they are in use any one of these additives could cut emissions by up to 25 percent."
One of the main barriers to implementation will be the sheer range of different farming systems around the world, all of which have different demands.
"The interventions needed on a cattle lot in Argentina will be different to those applicable to grazing animals in New Zealand," says Professor Newbold.
"Food additives are only really applicable to quite intensively reared animals -- we will need something different for the sheep on the Welsh hills, for example, who have quite limited contact with farmers. We can't just mash up a pill for them.
"But it some ways this is mainly a problem for the intensive side of the business anyway, because that's where most of the emissions come from."
Another potential barrier is legislation. While in North America antibiotics and growth promoting drugs are routinely used, many are banned in Europe, which has a far more cautious attitude to medicating livestock.
Any new additives would need to take account of this context, and may face a long trial period. But Professor Newbold remains upbeat.
"Any solution will have to work within particular cultural boundaries, but that doesn't worry me," he says.
"We will get there. The milk market may require a different fix as well; anything that might taint the milk is obviously out. But in time we will figure a way around that."
Of course methane is only one part of the environmental impact of livestock farming, which has been blamed for everything from polluting watercourses, to deforestation.
Ultimately we have a finite planet and will need to accept the limitations of that, and eat less meat.

"We will have to seriously look at how we use animals in the future," says Professor Newbold.
But for now carnivores and environmentalists can enjoy the prospect of a future that will keep them both happy.
E-mail to a friend