PARIS, France (CNN) -- A small part that tells computers on some highly-automated Airbus aircraft how fast the plane is flying became a concern again Wednesday.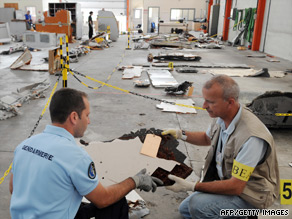 Investigators pore over wreckage of Air France flight 447 which crashed killing 228 people on June 1.
European aviation authorities ordered airlines to check "pitot tubes" that have come under suspicion since the crash of Air France Flight 447 in the Atlantic Ocean in June.
The European Aviation Safety Agency (EASA) issued the emergency airworthiness directive Wednesday, requiring airlines to check Goodrich Corp.-manufactured pitot tubes aboard Airbus A330 and A340 models in the next five days.
The Goodrich pitot tubes were installed after the EASA issued an airworthiness directive in late August requiring airlines replace pitot tubes manufactured by Thales Avionics on Airbus A330s and A340s. It said airlines should replace them with other Thales tubes and those manufactured by Goodrich.
The pitot tubes measure the pressure exerted on the plane as it flies through the air, and are part of a system used to determine air speed.

Pitot tubes explained »
While French authorities have not yet determined the cause of the June 1 crash, tests conducted since then have brought into question the performance of the pitot tubes and authorities say there have been reports of malfunctions aboard flights.
The EASA would not comment on which airlines are flying jets using the pitot tubes in question.
The agency cited several recent reports of problems with Goodrich pitot tubes that "could lead to an air leak, resulting in incorrect total pressure measurement and faulty airspeed measurements." The problem may be a production flaw, rather than a design flaw, the EASA said.
"As a precautionary measure, this AD (airworthiness directive) requires a torque check of the pneumatic quick-disconnect union on certain Goodrich P/N 0851HL pitot probes and corrective action, depending on findings," the EASA said.
All 228 people died in the Air France crash, which involved an Airbus A330. The plane was en route to Paris, France, from Rio de Janeiro, Brazil, when it went down.

See a map of the flight route »

The flight sent 24 automated error messages in the four minutes before it crashed, French accident investigators have said. The error messages indicate there were problems with on-board information about the plane's speed, which can cause some of the plane's instruments to stop functioning.
The U.S. Federal Aviation Administration ordered U.S. airlines earlier this month to replace pitot tubes aboard some Airbus A330s and A340s. The FAA's order required operators to replace certain pitot tubes produced by Thales Avionics with certain Goodrich or newer Thales tubes.
E-mail to a friend

All About Air France-KLM Group • Brazil