By Timothy E. Wirth
Special to CNN





Editor's note: Timothy E. Wirth is president of the United Nations Foundation. He served for more than 20 years in Congress, representing Colorado both in the House of Representatives and the Senate and also served as Undersecretary of State for Global Affairs. The foundation was created in 1998 with entrepreneur and CNN founder Ted Turner's $1- billion gift to support U.N. causes and activities.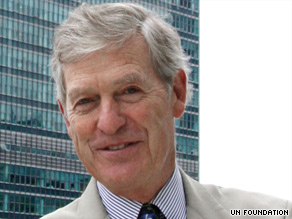 Timothy Wirth says upcoming Copenhagen summit is prompting progress on global climate change measures.
(CNN) -- On Tuesday, more than 100 world leaders gathered at the United Nations for a climate summit. They were called together by U.N. Secretary-General Ban Ki-moon to build momentum for the U.N. climate talks in Copenhagen, Denmark, this December.
There were no breakthroughs on Tuesday, no specific agreements -- but those who despair of progress in the international negotiations are missing the point. Copenhagen has already been a success.
Two years ago, the negotiating process was truly foundering. The secretary-general, who surprised many observers by making climate change one of his top priorities, put his prestige on the line that September by holding an unprecedented climate summit at the U.N.
When the world's leaders met, they settled on a structure for the climate talks planned for December 2007 in Bali, Indonesia. That structure led to the so-called "Bali road map" and a target date for reaching a new agreement -- December 2009, at the U.N. climate conference in Copenhagen.
Copenhagen has proved to be very important -- but not because the world will complete a new agreement there. (That is unlikely, because a global consensus has not yet emerged and because the negotiations are extraordinarily complex.) Rather, the Copenhagen deadline has been an attention-getting and action-forcing mechanism, and much has happened as a result.
Japan's new prime minister, Yukio Hatoyama, has pledged emission cuts of 25 percent from 1990 levels by 2020 -- more than triple the 8 percent offered by his predecessor. India's new Prime Minister Manmohan Singh, has announced an ambitious National Solar Mission, which aims to generate 20,000 megawatts of solar power by 2020.
Chinese President Hu Jintao has strengthened previous commitments to wind and solar and energy efficiency and added a major new plan for reforestation. Similar steps are coming from many different countries -- as varied as Korea, Mexico, South Africa and Brazil.
Meanwhile, the 42 nations in the Alliance of Small Island States are calling for stronger action -- for their own survival. In the United States, a climate bill has moved through the House of Representatives and is pending in the Senate. U.S. negotiators await that outcome to shape their position in Copenhagen.
At the U.N. climate summit, the secretary-general, whose focus on this issue has been relentless, brought the world's leaders together again to remind them of the gravity of climate risks, as well as the benefits of immediate action. The meeting alone was an important step, because it forced those leaders to get briefed, to discuss their options -- in short, to pay attention. The stakes are too large to leave this to environment ministers alone; political leaders must set the agenda.
Remaking the global energy systems to cut carbon emissions in half or more by mid-century is a daunting task -- but it is also an enormous opportunity, one that could launch a powerful new wave of innovation and economic growth.
Investors poured $155 billion into clean energy investments in 2008, even as the world's overall economy was stalling. They recognize that transformation of the energy sector could make the telecommunications and Internet booms look small by comparison.
It is from this foundation that further progress must be made, even if agreement can't be reached in Copenhagen on a specific percentage by which all developed countries would reduce their emissions. Clean energy investments deliver immediate reductions, and that's what the planet needs.
The right kind of public policies -- new rules of the road -- will release a flood of private capital. These policies can take the form of new standards for energy efficiency, renewable energy, and forests:
The annual rate of energy efficiency improvement can be doubled globally, to about 2.5 percent a year. This will require large capital investments -- $170 billion annually, according to an estimate by McKinsey & Co. -- but the payoffs will be even larger, growing to $900 billion a year by 2020.
Electricity production from renewable energy sources like wind and solar can be ramped up dramatically to a minimum of 20 percent globally. Cleaner air and improved public health will be important added benefits.
Deforestation, responsible for 20 percent of the world's emissions, can be cut in half by 2020, protecting valuable ecosystems and biodiversity.
Together with new mechanisms for international collaboration in the development and deployment of clean energy technologies, as well as new funding for poor countries that have already been hit hard by the impacts of climate change, these building blocks can be the basis of real success in Copenhagen -- steps that can be broadly and immediately implemented to cut emissions now, even as negotiations continue on a long-term deal.
The opinions expressed in this commentary are solely those of Timothy E. Wirth.
E-mail to a friend

All About United Nations • Hu Jintao • Global Climate Change