By Reenita Malhotra
For CNN





HONG KONG, China (CNN) -- The last 50 years have borne witness to a spate of climate-related disasters across the world causing over 800,000 fatalities and $1 trillion in economic losses.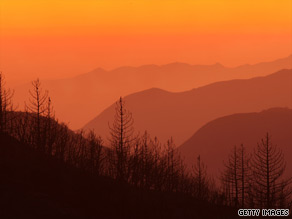 More frequent wildfires have been blamed on rapidly changing weather caused by climate change.
Those stark facts come from the Economics of Climate Adaptation (ECA) Working Group, a group of NGOs and corporations that has produced a report warning that if countries do not take active steps to build resilience to climate change soon, they are likely to suffer even larger economic losses in the coming decades.
According to the ECA report published on September 14, climate catastrophes have risen in direct proportion to global temperatures over the last several years.
Developing nations are especially under threat, according to Cristina Rumbaitis Del Rio, Associate Director of the Rockefeller Foundation and a key researcher in the report.
By 2030 they stand to lose between one and 12 percent of GDP, given current weather patterns. Higher global temperatures are likely to exacerbate future climate disasters, falling crop yields and lack of water availability.
When future economic growth and climate change are factored into these figures, the total potential climate-related loss to 2030 rises to as much as 19 percent of GDP in certain countries such as Guyana (one of the countries studies in the report).
"Developing countries are more dependent on climate services as an engine for productivity," Del Rio told CNN.
Don't Miss
"They have less coping capacity because of things like climate dependent agriculture, lack of insurance products, low crop diversity, and a general lack of other employment streams."
As well as the Rockefeller Foundation, Swiss Re, a leading global reinsurer, was the key contributor to the research along with McKinsey & Company, an international consulting firm. Other sponsors include the European Commission, ClimateWorks and Standard Chartered Bank.
According to Del Rio, the report was commissioned because there has been relatively little action by governments because of their uncertainty about climate change and other competing economic priorities.
The report aims to equip policy-makers and other stakeholders (such as private corporations and NGOs) with a set of tools to take action on building resilience to climate change vulnerability.
According to the report, communities around the globe are not organized to develop an overview of their "total climate risk," a situation that includes a combination of three key factors: climate risks today, the value of future economic development and the effects of on-going climate change.
The ECA report analyzed a range of climate change impacts in eight different countries (China, the United States, Guyana, Mali, United Kingdom, Samoa, India, and Tanzania) and suggested a series of adaptation measures. These range from planting mangroves to increase water catchments in high flood regions to providing low-cost risk transfer methods to farmers in developing countries.
According to Dr. David N. Bresch, Head Sustainability & Emerging Risk Management at SwissRe, insurance plays a key role in addressing low-frequency, high-severity weather events, and is often the most cost effective approach.
Across the locations studied in the report, between 40 and nearly 100 percent of the expected loss to 2030 can be averted through cost-beneficial adaptation measures that are already known and tested.
In most cases, the economic benefits outweigh the costs involved, and address approximately half of the expected annual loss. Members of the ECA hope that the report will draw awareness to climate change risk and vulnerability in the days leading up to the U.N. Framework Convention on Climate Change (UNFCCC) discussions in Copenhagen in December.
Although, the report does not touch on the area of funding, the contributors maintain that decision-makers are actively looking for cost-effective climate resilience-building tools that can be applied in the near future.
"The methodology [we provide in the report] will also help to supply insurers, financial institutions, and potential funders with the information required to unlock and deepen global risk transfer markets," Bresch told CNN.
So far, reaction to the report has been positive.
According to the Rockefeller foundation representatives, Oxfam and the Red Cross are already looking to apply the analysis to agricultural projects in Ethiopia and healthcare projects in Kenya.
Clearly there is an economic incentive for private sector companies involved in this initiative. Bringing awareness to this problem can result in consultancy fees and demand for risk management products.
Yet, Del Rio points out that this is a time when policy-makers are actively looking to involve private sector stakeholders to make the difference.
However, as Greg Hintz from McKinsey & Company pointed out to CNN, even though the ECA methodology provides a set of globally applicable tools, adaptation must be tailored to local environments, and governments must play their part to build true resilience to climate change.
E-mail to a friend