(CNN) -- For two weeks the National Mall in Washington D.C. has been transformed into a boulevard of homes of the future.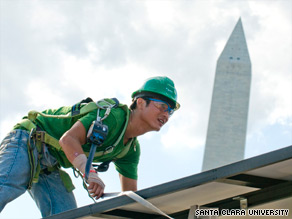 A member of Team California at a work on the Refract House for the Solar Decathlon in Washington D.C.
The solar-powered houses are the work of university teams from across the U.S., Puerto Rico, Germany and Spain, all taking part in the Solar Decathlon. The aim: to design, build and operate the best energy-efficient solar houses. Most teams have spent at least two years working on their projects.
Preet Anand, a senior at Santa Clara University and member of Team California, told CNN about the build-up to the event:
"Our team is the only undergraduate-led team in the entire competition. We've built our homes on our home campus and then transported it to the National Mall in D.C., where it was reassembled over five days.

View the gallery of the house being built »
"Just coming off those five days, I can tell you, it feels like a long time coming. We've been working on the design of our home, the Refract House, for almost two years and the rough calculations I've done show that we've poured in 67,000 man hours into building this demo green building for the future.
Don't Miss
"Our motto is that 'Green Living is not a compromise'. A green home powered by the sun can also be beautiful and comfortable. Being here at the National Mall with all the other 19 teams, I can definitely say we've all succeeded in showing the world what we are capable of.
"Our home's greatest strength is getting away from the design of a box with obtrusive solar panels, and instead embracing a central courtyard as a fourth room. Our home also features integrated engineering and architecture, a great example of this would be our solar panels that look like a natural component of our roof rather than sticking out from it.

Watch video of the team on the National Mall »
"Team Germany's home goes another direction by truly embracing the architecture of a box and actually making it multi-storied. Virginia Tech focused on making their home really responsive with moving panels over the windows that can actually lock the house down.
"Everything in our house is monitored, from how much hot water is used when taking a shower to how much energy is generated by solar panels. This is tracked in real time, allowing the homeowner to educate themselves about the effects of their actions on resource consumption. With that info, they can actually turn circuits on and off to save energy from the student-designed iPhone application.

"I'm really proud of what all the schools here have achieved. Above that though, I'm really proud of what our undergraduate-led, undergraduate-managed, and undergraduate-built home has become. I'm getting excited to see how Team California does in the competition!"
Find out how Team California and the other teams fare in the competition, here on Eco Solutions next week.
E-mail to a friend